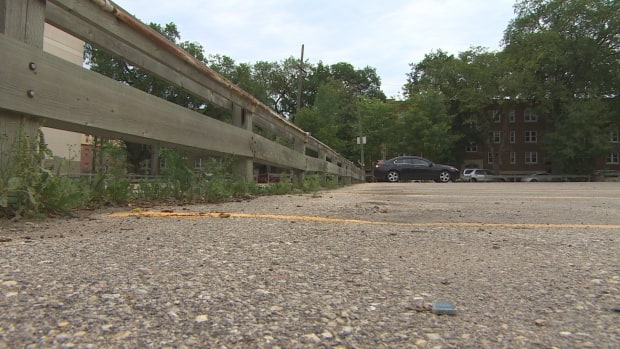 [ad_1]

Surface parking lot owners with businesses in the downtown core may have to comply with new beauty and safety standards or get hit by big fees — and drivers could be stuck footing the bill.
When it comes to standalone ground-level parking lots, the City of Winnipeg has no design standards and no ways to enforce them.
But a new city hall report indicates that could change soon, if the administration gets its way.
"It would be to make them safer and much more pleasing," said John Orlikow, the city councillor for the River Heights – Fort Garry ward.
City administration put forward potential parking lot plans to the city committee responsible for property and downtown development. After granting multiple extensions, the governing body is asking the property committee for permission to move forward on drafting enforcement bylaws under a new licensing regime.
Rethinking renovations
The executive policy committee first passed a motion in December 2014. The new report authored by Braden Smith, the city's chief planner, recommends new beauty and safety standards for standalone surface parking lot businesses.
Coun. Orlikow, who chairs the property committee, said the two main reasons driving the recommended changes are better safety and "streetscaping." The city's goal is to improve lighting and designated sight lines, and create more aesthetically pleasing lot enclosures.
"You don't want broken-down fences, you know. Let's put some trees in there. Let's put some green back in there," Orlikow said.
Orlikow says one of the reasons for upgrading the standards for surface parking lots is to attract more people downtown. (Gary Solilak/CBC)
The changes would only apply to standalone surface parking lots, bringing them more in line with parkades. The new licensing regime would be based on "the carrot rather than the stick," the councillor said.
"If [business owners] actually are able to meet the design standard, then the licensing would be very cheap, if not any cost."
Failure of individual businesses to upgrade parking lots and comply with design standards could lead to higher fees as a form of cost recovery for the city.
More expensive parking?
Lot owners could pass the buck on to their customers.
"Any time you raise a fee, there's always concerns about that," Orlikow said about the likelihood of deterring motorists from going downtown due to the rising cost. Downtown drivers were already dealt more expensive parking when the city raised its own fees by $1.50 per hour, which kicked in April 1.
"Downtown is growing and fees are continually increasing," Orlikow said.
Orlikow told CBC the proposed changes reflect Winnipeg's growing downtown core.
"I believe that by making these parking lots even better, it will attract more people downtown, which will increase demand for parking, regardless.
"This is just one step."
The report says there are more than 150 surface parking lots that make up about 20 per cent of downtown real estate.
The proposed surface parking lot plan goes to the standing committee for a vote on June 25.
[ad_2]