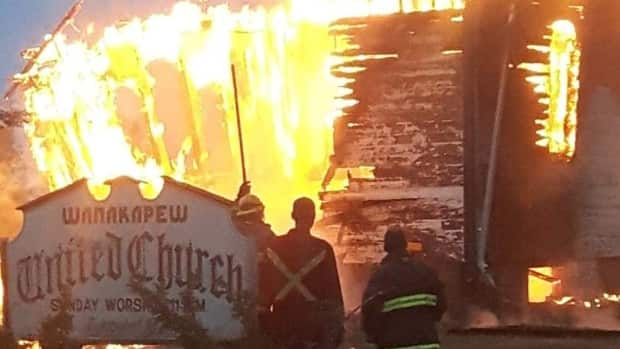 [ad_1]

Over a century of memories of the United Church on Peepeekisis First Nation are bubbling to the surface after a fire decimated the one-room church on Saturday.
Community members say the Wanakapew United Church was built before 1906 on the reserve, which is about 110 kilometres north-east of Regina.
A previous generation from Peepeekisis dug out the basement and connected the wood in tongue and groove joints to create a home for countless weddings and religious ceremonies.
"You can imagine how dry and how old that wood is. That wood's gotta be like 130 years old," said Perry Mcleod.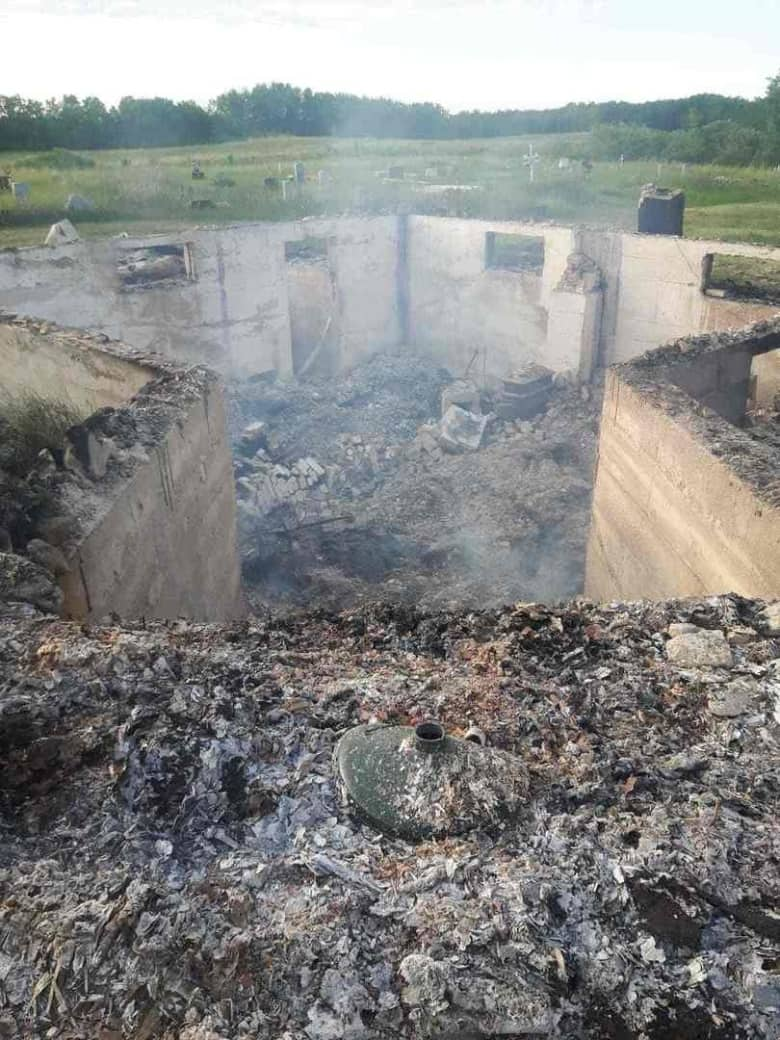 A graveyard is located behind the former one-room church. (Submitted by Perry Mcleod)
Engulfed in flames
Mcleod lives just a few hundred metres from the church and was the first to catch sight of smoke coming from the basement around 8:15 p.m. When Mcleod got closer, he saw the basement in flames.
Within minutes, the fire had spread up to the walls on the main floor. Fire crews from Balcarres showed up, and the building collapsed within about 40 minutes of Mcleod first sighting it.
While that all happened, Mcleod and about 40 others stood quietly and solemnly outside, watching the fire and reminiscing about the church.
"Myself, I know they were the first ones to have a colour TV. So as a little kid we used to go and watch the colour TV over that way," he said.
"There was people coming along and saying 'I got married in that church,' or 'my sister got married,' 'my mom and dad,' 'my grandparents got married in that church.' Like there's a real long history of that church on Peepeekisis."
About 40 people gathered to reminisce about the church as it burned down. (Submitted by Perry Mcleod)
The church hosted the United Church of Canada's moderator back in the summer of 2017. (Submitted by Perry Mcleod)
It was a simple building: the main floor housed church service and the basement housed arts and crafts and other activities. There was no running water but there was power and a wood stove to heat it.
Regular church services had waned in recent years, but there were ceremonies for special holidays, weddings, funerals and feasts, Mcleod said. The Methodist church burned down in recent years, leaving only a Roman Catholic church.
"It's going to have a lasting impact on the reserve. We're down to one church… I don't know what's going to happen in the community," Mcleod said.
Because of the simplicity of the building, there are questions locally about how the fire started.
Balcarres fire department was not available for comment.
[ad_2]