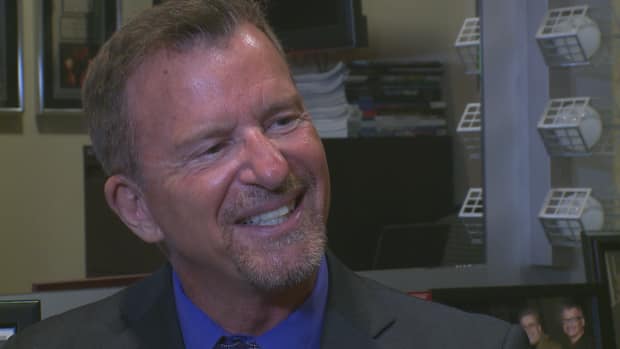 [ad_1]

If you've ever attended a show at Caesars Windsor, a big 'thank you' is owed to Tim Tremblay. He's the man responsible for bringing in some of the world's biggest acts to the casino.
But that flow of talent — performers like Johnny Reid, Pitbull, Russell Peters  — hit a standstill amidst the 60-day strike at Caesars Windsor.
With many of those shows now rescheduled, it seems Tremblay is back in business. But the road to get there wasn't an easy one.
Keys to the kingdom
Tremblay lived in Toronto for 25 years before moving back to his hometown of Windsor in 2010 to take up the role of Caesars entertainment director.
Before the age of 30, he was responsible for scouting and overseeing talent for a major Canadian label — EMI Music. In fact, a lot of the awards in Tremblay's office are a result of him signing some of the biggest acts in Canadian music history.
Tremblay said if he could keep just one thing in his entire office, it would be this picture of him alongside Bob Seger, middle, and his mother. (Tony Doucette/CBC)
"I just love music. I grew up with it. And I think I feel very fortunate that I was able to spend so many years in Toronto in the recorded part of the business. But then also to move back to my hometown and end up running this world-class facility right in Windsor," he said.
"As a kid, that didn't exist on this side of the border."
Booking artists
Tremblay's team books artists through a company called C3 Presents in Austin, Texas — producers of the Lollapalooza and festivals. He said, over the years, Caesars has established themselves as a legitimate alternative for artists — rather than playing across the border
"We have demonstrated that, on all levels, we really execute to the level that they would expect if they were playing one of the facilities over in Detroit," Tremblay said.
"In the agency world, they really view us as being a legitimate, hard-ticket venue."
Lionel Richie performed at Caesars Windsor on June 24, 2017. (Tony Doucette/CBC)
Overcoming the strike
For Tremblay, the key to rescheduling shows at Caesars was to be proactive.
"We have a lot of support in the industry. We got out ahead of it to let them know that there was a possibility that shows may need to be postponed and rescheduled," Tremblay said.
"There was a lot of cooperation, a lot of back-and-forth trying to find dates that would mutually work for us and for those artists."
Tim Tremblay's office is akin to a music museum, hosting a number of signed photos from some of Caesars Windsor's most high-profile performers. (Tony Doucette/CBC)
But postponing shows is a big hassle for some artists who ask for special perks when they come to Windsor.
"There are some that require fresh flowers and they can be very specific about the type of flowers. We live in a world where everybody's very concerned about diet, so we're seeing a lot more riders now where there's a lot of dietary restrictions — no gluten, some are vegan."
[ad_2]