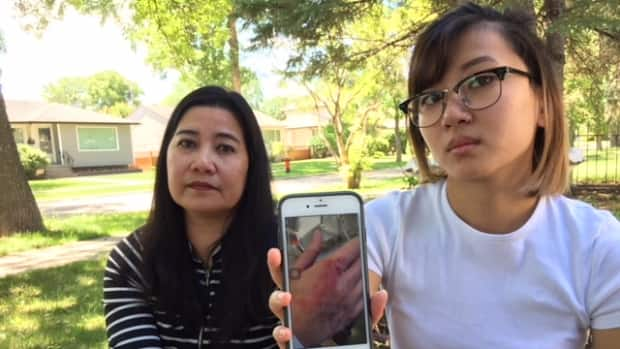 [ad_1]

A Winnipeg mother just wants her 16-year-old son to be kept safe at school, after he came home with severe scratches and bites from a classmate for the third time in just over a year.
Maria Garcia's son Jordan has a developmental disability and is in a special education co-operative program at Glenlawn Collegiate. She said he's been the victim of three unprovoked attacks by another 16-year-old boy in his class, the most recent one happening last Tuesday, involving bites to his hand that required a tetanus shot and antibiotics.
"He was crying. Upset. Scared. And then he said, 'Why he did [he do it] again?' He said, 'I did not do anything,'" said Maria Garcia, through tears. 
Jordan has been injured twice before after attacks by the boy in their classroom.
Last May, he came home with scratches all over his face and neck after the boy became aggressive with him. It happened again in April of this year, when Jordan was scratched while working at his desk.
Jordan, 16, suffered bites, swelling and needed antibiotics after his 16-year-old classmate bit him Tuesday, following two other scratching incidents in April and last May. (Maria Garcia)
Garcia met with school officials after both incidents. They developed a safety plan with her each time and ensured the other boy had a dedicated educational assistant in the class after the April incident.
Jordan started taking the city bus instead of the school bus, which the other boy took unaccompanied.
Garcia said Jordan was giving a presentation to his class Tuesday last week when the other boy started interrupting, so his teacher asked the educational assistant to remove him from the class. Later, as Jordan was leaving the classroom early to catch his bus, the boy attacked his hand, bit it and wouldn't let go.
"The other teacher ran and went in the middle of them and that's the time that the student let him go, but he said it's too late, it's damaged already," said Garcia, recalling what Jordan told her of the traumatic incident.
She said the violence has not only affected Jordan's ability to feel safe going to school, it has hurt their whole family.
Jordan was scratched in the face and head last May, then again in April, by another student in his class with special needs. (Maria Garcia)
"I think it's unfair, because his entire school life he's been bullied, and because I've been with him, his entire school life, I've been witnessing this," said his sister Kim Uduman, 19, through tears. 
"I get really sad and I always feel like I have to step in," she said, adding she's been the guardian for her brother at several meetings with teachers over the years. 
"I don't think anyone has to go through that and it's so sad because he's such a sweet kid," she said.
Garcia said after the last incident, the school principal told her the boys would be separated when they return to school in the fall, but she doesn't know why it took so long.
'Regret it so much'
The superintendent of Louis Riel School Division has been in touch with Garcia since learning of his injuries.
"I regret it so much. I regret that, again, we were not able to prevent that from happening," said Christian Michalik, superintendent of the Louis Riel School Division.
He said the other boy is currently not attending school for the final week of classes.
"And now we're going to review carefully what exactly has occurred and likely program differently for the other boy."
Michalik said the school and school division reviewed individual educational plans for both boys after each incident, and student services co-ordinators and clinical service teams from the school division have also been involved.
"The school has responded to these incidents, but clearly, regrettably, the plans we've had in place and plans that have been informed by many professionals in Louis Riel School Division need to be refined, because they're not preventing this from recurring," he said. He added the school has not expressed a need for additional resources in the classroom.
Michalik said the other boy has not been aggressive with other students, but does have an unresolved, ongoing situation with Jordan. As school officials work with the boy's family as well, Michalik said programming is always geared towards having children with other children, whenever they can.
"He is able to be with other youth," he said. 
"The programming and planning that we have in place for this other boy has to be such that we are confident that we're able to mitigate when he's unable to control his behaviours," he said.
Doesn't want to leave
Garcia said she's hopeful that school officials are taking her concerns seriously, because Jordan doesn't want to leave the school.
She said he has many friends there, loves his woodworking classes and hopes to be a chef one day. He just doesn't want to get hurt by anymore.
"He really loves to go to school, he's a lovely kid."
[ad_2]