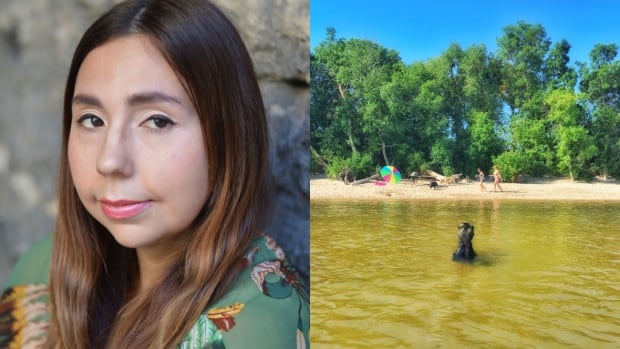 [ad_1]

Everyone knows about the art scenes in Toronto, Montreal and Vancouver — but what about Lethbridge, Sudbury or Victoria? In CBC Arts's new series "I He(art) my City," a local artist offers an insider's guide to the city they call home. Here, Indigenous writer, director and theatre producer Frances Koncan shows you her Winnipeg.
The Gateway to the West! The Chicago of the North! The Most Racist City in Canada!
Winnipeg. You've probably heard of us. We're sort of a big deal. We have a famous bear named after us. Keanu played Hamlet here. We have cold winters, hot summers, an inexplicable worm infestation problem and our NHL hockey team is actually pretty darn good.
I grew up in Winnipeg, in Treaty 1 Territory, upon the traditional lands of the Anishinaabeg, Cree, Oji-Cree, Dakota and Dene peoples, and on the homeland of the Métis Nation. My childhood was fairly typical, other than being one of only a handful of Indigenous kids in South Winnipeg. But growing up, I hated living there, so when I had the chance to move to New York for grad school, I took it. I loved every single minute of big city life, but after graduation, my student visa expired and I had to return to Winnipeg.
Now that I call this city home once more, I've been trying to appreciate it more. Here are some of my top favourite places to do all my favourite things: drinking, crying, laughing, eating, swimming and — last but not least — reclaiming my cultural identity so I can one day become Prime Minister and/or famous on Instagram.
Favourite community space
Thunderbird House. (Frances Koncan)
Thunderbird House is a beautiful building which houses a community dedicated to Indigenous teaching and the sharing of traditional knowledge. A sacred space that is growing to be a hub for Winnipeg's Indigenous community and those interested in Indigenous culture, it has been a vital place for me as I continue to learn about my own heritage and ancestry.
Favourite rooftop bar
The Roost. (Frances Koncan)
Crafted with care and love, every cocktail at The Roost tastes as if it's made of magic. Created and staffed by a group of creative young folks, this lovely second floor social house on Corydon Avenue is a relaxing retreat from the city streets, and overflowing with a delicate ambiance. This is the perfect spot for first dates and catch-up sessions with old friends. With a commitment to being a safe space for all people, The Roost is also a great place to take yourself out to and enjoy a cocktail or two alone!
Favourite place to cry
Trappist Monestary. (Frances Koncan)
Known locally as The Ruins, this park just south of Winnipeg has a rich history involving monks, fires and probably brimstone. It's rumoured to be haunted, but I have no evidence of that besides my dog barking at the air for 20 minutes one time. Ghostly presence or not, it's a special place. When it's sunny, it's a beautiful place to soak up some sun and some history, and when it's cloudy, it's the perfect place to come and cry. I think it's very important that everyone — especially artists — have a good place to cry, and this is mine.
Favourite comedy hotspot
Wee Johnny's. (Frances Koncan)
Wee Johnny's, a basement bar on McDermot Avenue, now plays home to new comedy shows almost every night. Created and curated by the team behind H.U.N.K.S. Comedy, the show offerings now feature a variety of hilarious hosts in an environment that has publicly declared its commitment to being an inclusive and safe space for all people to enjoy watching and performing. It's a fully lit place to visit on nearly any night of the week.
Favourite picnic spot
La Barriere Park. (Frances Koncan)
La Barriere Park is a sweet little park just south of Winnipeg. I love it because it tends to be less crowded than most of the busy city parks, but it's far enough away to give you that feeling of escape and adventure. The park has plenty of open field spaces, picnic areas, bridges, trails and a cute little river. In the winter, it's a great spot to cross country ski or snowshoe. And, as with many places in Winnipeg, the park may also be haunted.
Favourite festival
Winnipeg Fringe Festival. (Brett Howe/Winnipeg Fringe Theatre Festival)
Winnipeg hosts a lot of ultra awesome festivals: Folk Fest, Jazz Fest, tons of smaller music festivals at rural locations deep in the woods somewhere. But my favourite festival is by far the Fringe! For 12 days every summer, the Exchange District and Downtown Winnipeg come alive with live performances in tons of different genres, including dance, storytelling, clown, stand-up, improv, exciting new plays and reimagined classics. (You can find out all you need to know about this year's festival at winnipegfringe.com!)
Favourite place to bring my dog
Winnipeg Beach. (Frances Koncan)
There's a dog-friendly section of Winnipeg Beach hidden just south of the water tower. It is a magical land where dogs can live their best lives. I love to take my dog Tucker on a day trip to the beach. We go swimming, he plays with other dogs and I take selfies under a rainbow umbrella while eating ice cream. It's a real win/win situation, and it's a great reminder that nature is never far away.
Favourite coffee shop
(Frances Koncan)
Delicious coffee and tasty treats are a highlight at this downtown coffee shop, but they're by far the only thing it has to offer. The walls of Fools + Horses feature new local art, and the shop plays hosts to all sorts of interesting meetings, concerts, plays and community events. Its central location makes it a fantastic spot to people-watch, and there always seems to be a friendly face walking through the doors. An accessible space with gender neutral bathrooms, Fools + Horses is hands down my favourite coffee shop in Winnipeg, and a hub of both my social life and, of course, my love life.
More local arts essentials: stand-up show WOKE Comedy Hour, comedian Melanie Dahling and Fringe Festival play Animosity by Wren Brian
Check out Frances Koncan's website to see more of her work.
[ad_2]