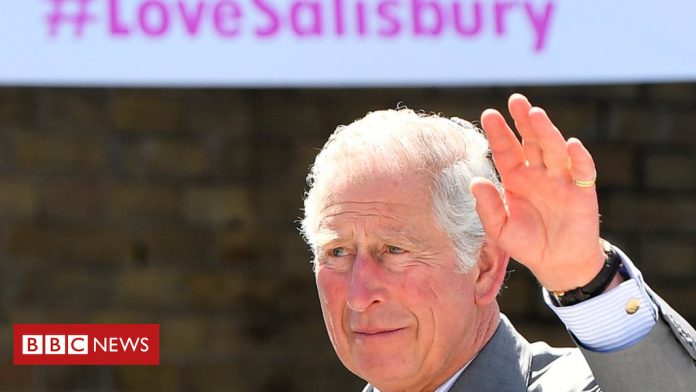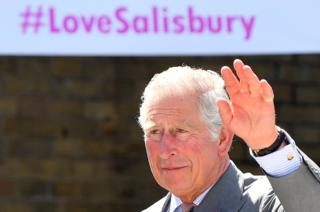 Prince Charles has met the police officer who fell ill after being exposed to the nerve agent used on a Russian ex-spy and his daughter.
Det Sgt Nick Bailey was left seriously ill after responding to the attack on Sergei Skripal and Yulia Skripal in Salisbury in March.
The prince met the officer in private during a morale-boosting royal visit to the city.
Det Sgt Bailey spent almost three weeks in hospital following the attack.
During the visit Prince Charles and the Duchess of Cornwall met shop workers in the Maltings shopping centre, parts of which were closed for almost 12 weeks after the attack.
They also attended a reception in the city's Guildhall where they met members of the emergency services who handled the incident and people involved in the city's recovery programme.
Sergei Skripal, 66, and his daughter Yulia, 33, were found unconscious on a bench, suffering from the effects of the nerve agent Novichok, on 4 March.
Ms Skripal was discharged from Salisbury District Hospital in April, and her father last month.
The royal couple were met by hundreds of people during the visit, including children from 17 schools.
One local resident, Jessica Fulton, said the visit had been "important".
"It boosts morale and [will] hopefully bring people back to the city. We need tourists to survive."
Rose Gaulton, who met the duchess, said: "She said it was important to come to Salisbury because she was from Wiltshire."
Supt Dave Minty of Wiltshire Police said having the royal visit was "brilliant, as it really emphasises that we are doing the right thing".
"From day one when we didn't know what had happened, and from the chaos and confusion, we have hopefully managed to bring things together successfully to show Salisbury is recovering and show we can move forward."