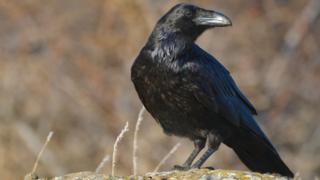 A man has been warned by police after sending death threats to the chairman of Scottish Natural Heritage (SNH).
The 47-year-old, from Preston in Lancashire, was arrested and issued with a formal "harassment warning".
The threats were made after SNH licensed a raven cull in Perthshire.
Following the decision, an email to SNH chairman Mike Cantlay from conservationist Chris Packham, calling the move "ill-judged and ruinous", was widely shared on social media.
The letter said: "If you had asked a team of the very best PR executives to come up with a plan to incinerate the last vestiges of credibility, to banish any dwindling reserves of integrity and to destroy any remaining trust between conservationists and SNH, then it's my bet that they would have suggested this. Top work.
"As it stands the already beleaguered reputation of SNH lies in bloodied tatters, and, whilst I am not a PR person I would suggest that to reverse this ill judged and ruinous decision – as quickly as possible – would be a jolly good idea."
After the death threats emerged, Mr Packham said on Twitter they were "abhorrent and unacceptable and should cease immediately".
But he added that the raven cull was also "abhorrent, unacceptable and should cease immediately".
SNH had licensed the cull of about 300 ravens to protect wading birds in the Strathbraan area.
Police in Lancashire issued the warning after an investigation by Police Scotland.