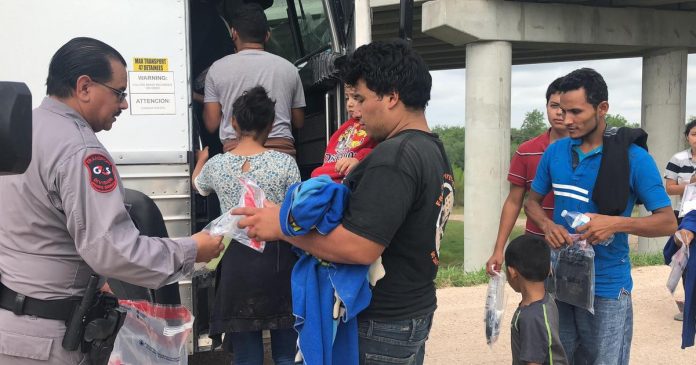 [ad_1]

MCALLEN, Texas — Across the U.S., there's growing outcry over the "zero tolerance" policy of prosecuting illegal immigrants at the U.S.-Mexico border that has resulted in the separation of children from their parents. At the border, went along with Customs and Border Patrol as they encountered newly arrived undocumented immigrants.
Just 10 minutes into the ride with Raul Ortiz, deputy chief of the Rio Grande Valley Sector, we drove up on a group of people who had just been detained, including young children with their parents.
One woman said her name was Yolanda, and she sat on a road with her 8-month-old daughter, sister, brother and mother. They said they had left Honduras several months ago, and traveled to the border by bus. Ortiz says smugglers likely dropped them off at a spot where they knew they could sneak in.
We asked why she wanted to come to the U.S. Ortiz translated, saying the woman told him there's no work, there's violence, and the political situation is difficult. But what about the prospect of going to a processing facility and being detained?
"She says everybody knows that there is no help for her and her family in Honduras," a guard said. "But everybody knows there's help for families here in the United States, so the risk is valid to them. The risk that they still may be detained, the help that they are seeking, far outweighs that risk."
Each detainee was offered water and given a bag where everything they had went inside. They handed over the bags as they boarded a bus headed for a processing center where they will find out if they'll be separated. But Ortiz said he didn't think the Honduran family will be separated.
Two people drown on average per week trying to cross the Rio Grande River into the U.S. Just south of McAllen, Texas, more people come into the U.S. illegally than anywhere else along the southern border.
"Everyday, 24/7, you can expect somebody's going to be trying to cross this river," Ortiz explained.
Back in the vehicle, the chief said a group of men were running from agents. We drove up as four were caught caught, and Ortiz took off running in order to arrest a fifth man.
"Every single one of them ran from our officers and because we don't have the technology and infrastructure out here, this is what they're having to patrol in," he said.
As for the family, they aren't told what's going to happen to them until they reach a processing facility. That's where they are read their rights and it's there that children may be separated from their parents. One man detained told Border Patrol he didn't know about the "zero tolerance" policy.
The people detained were all bused to a processing facility in McAllen. Ortiz says the Honduran family will not be separated because one daughter has an infant child and the family traveled as a unit.
© 2018 CBS Interactive Inc. All Rights Reserved.
[ad_2]