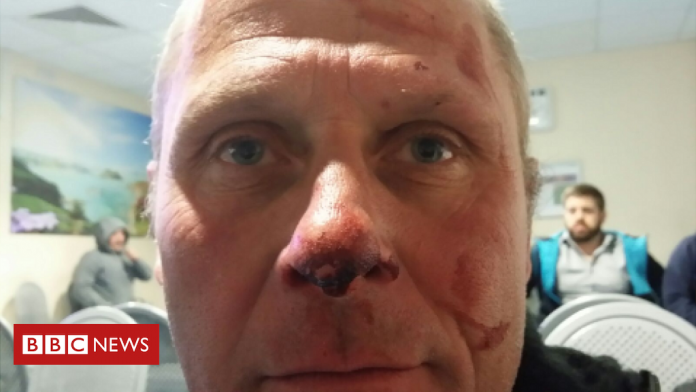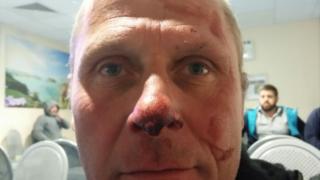 An ex-soldier who put a policeman "in a choking headlock" and lifted him by the nostrils has been jailed for seven years.
David Bull, 37, attacked two police officers after being pulled over in Tavistock, Plymouth Crown Court heard.
He had tested at twice the drink-drive limit when he grabbed Sgt Dave Clarke and tried to gouge out his eyes.
Bull, from Bedfordshire, was found guilty on two counts of causing grievous bodily harm with intent.
He had admitted the less serious charge of grievous bodily harm against Sgt Clarke, but denied intending to harm the officer and assaulting colleague PC Jenny Mashford.
More on this story and other Devon news
Judge Mr Justice James Dingemans told Bull that the April 2017 assault on Sgt Clark had been a "sustained attack".
'Overwhelming evidence'
"You picked him up in a headlock, you inserted your fingers into his nostrils and you attempted to gouge his eyes out", he said.
"When PC Jenny Mashford approached, you kicked her leg in and, using your unarmed combat training, you dislocated her knee."
During the trial, Bull said he was suffering from combat-related PTSD, which the judge said he'd considered during sentencing.
He also said that Bull had been convicted on "overwhelming evidence".
Chief Constable of Devon and Cornwall Police, Shaun Sawyer said: "All too often police officers and staff are subjects to assaults and threats."
"It is never acceptable to assume that assaults on police officers and staff should be tolerated."