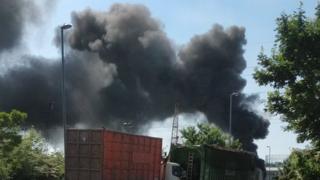 Plumes of black smoke have been spotted for miles across Birmingham as tyres are believed to have caught fire along a street lined with industrial units.
The fire was first reported at 15:22 BST along Crawford Street, Saltley
Crews were sent out to tackle the blaze amid reports of gas bottles and fridges being at the scene.
More than 30 people had called 999 to report the blaze, West Midlands Fire Service said. It is not yet known what started the fire.
Midlands Live: House of Fraser store closure plan backed; Race hate candidate sentencing delay
The fire is now under control, the fire service has confirmed.
A total of eight firefighters, with one crew from Ladywood and a brigade response vehicle, were sent to the scene.
The fire service released a video of what firefighters were dealing with and encouraged members of the public not to call in about the blaze.
West Midlands Police said road closures were in place while crews tackled the fire.