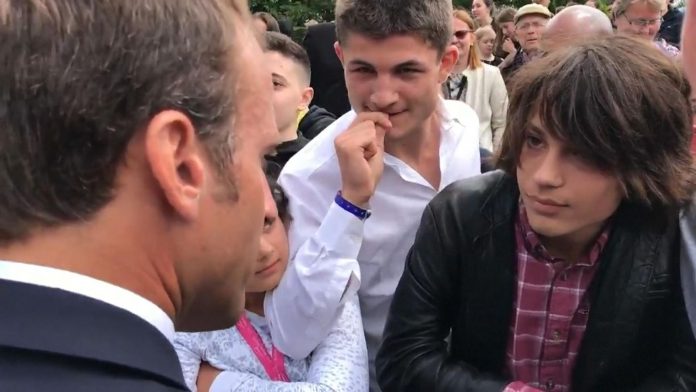 [ad_1]



Emmanuel Macron has put a teenager in his place after he called him by the nickname "Manu".
The French leader was on an official visit to Mont Valerien fort near Paris to commemorate General Charles De Gaulle's call for popular resistance during World War Two.
Mr Macron was passing through the crowds when the teenager addressed him informally.
The president was not happy with his improper conduct, and told the boy: "You call me Mr President of the Republic."
Le respect, c'est le minimum dans la République – surtout un 18 juin, surtout en présence des compagnons de la Libération. Mais cela n'empêche pas d'avoir une conversation détendue – regardez jusqu'au bout. pic.twitter.com/CWtPDAALhK

— Emmanuel Macron (@EmmanuelMacron) June 18, 2018
The awkward encounter was captured on video and shared online.
Mr Macron told the young man: "You can act like a clown, but today, it is the Marseillaise, and the Partisans song, you call me 'Mr President of the Republic' or 'mister'.
"OK? Good. You need to do things the right way, even if you want to lead a revolution one day, you've first got to earn a diploma and learn how to put food on the table. OK?"
The boy had asked Mr Macron "ca va Manu?" – which means "how's it going, Manu?" – and apologised after receiving a stern lecture.
The French president later tweeted: "Respect is the minimum in the Republic – especially on June 18, especially in the presence of the Companions of the liberation. But this does not prevent a relaxed conversation."
[ad_2]