[ad_1]

Rhwng 1984 a 1990 bu 10 o ffotograffwyr, yn cynnwys David Bailey a Paul Reas, yn cofnodi bywyd a thirwedd cymoedd y de. Ffotogallery, a sefydlwyd yn 1978, oedd yn gyfrifol am y prosiect, ac i ddathlu eu pen-blwydd yn 40 eleni maen nhw'n arddangos rhai o'r lluniau ym Mhenarth, Bro Morgannwg.
Between 1984 and 1990, Ffotogallery in Cardiff invited 10 photographers, including David Bailey and Paul Reas, to document the life and landscape of the South Wales valleys during a time of great change. On their 40th anniversary in 2018, Ffotogallery are exhibiting a selection of the images in Penarth, Vale of Glamorgan.
---
Mike Berry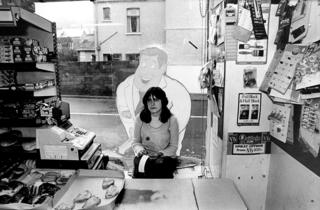 Bu Mike Berry yn tynnu lluniau ym mhentref Glyncorrwg yng Nghwm Afan yn 1985.
Mike Berry began photographing in Glyncorrwg in the Afan Valley during Easter 1985.
Tom Leyshon yn gwylio Margaret Thatcher ar y newyddion yn 1985.
Tom Leyshon watches Margaret Thatcher on the news in 1985, the year of the Miners' Strike.
Glyncorrwg, 1985.
---
David Bailey
Glofa Lewis Merthyr, Cwm Rhondda, oedd wedi cau dwy flynedd ynghynt yn 1983.
Lewis Merthyr Colliery in the Rhondda Valley, which had closed two years earlier in 1983.
Roedd y prosiect yn cynnig her wahanol i'r ffotograffydd byd-enwog David Bailey.
Renowned fashion and portrait photographer David Bailey had been interested in photographing urban landscapes when he took on the project.
---
Francesca Odell
Cyn-bentref glofaol Glifach Goch yng Nghwm Ogwr Fach yn 1985.
The former coal mining village of Glifach Goch in 1985, situated in Cwm Ogwr Fach (Small Ogmore Valley).
Siân a'i mam yn Nhonypandy, Rhondda Fawr, yng Ngorffennaf 1985.
Siân at home with her mam in Tonypandy, Rhondda, in July 1985.
Plant yn chwarae mewn ystafell wely ar stâd Gurnos, Merthyr Tudful, Rhagfyr 1985.
Playing upstairs in a house at the Gurnos estate, Merthyr Tydfil, in December 1985.
---
John Davies
Yn 1984, bu John Davies yn tynnu lluniau o dirluniau diwydiannol Cwm Rhymni.
In 1984, John Davies was commissioned to photograph the Rhymney Valley's industrialised landscapes.
---
Ron McCormick
Pentref Llanhiledd ym Mlaenau Gwent, gyda Neuadd y Gweithwyr ar y dde.
'The Fields' of Llanhilleth. The Llanhilleth Colliery Workmen's Hall is on the right.
---
Paul Reas
Roedd gwaith Paul Reas yn edrych ar effaith technoleg newydd ar gymunedau'r cymoedd.
Paul Reas documented the effects of 'high tech' industries on communities in the South Wales valleys.
Delwedd drawiadol sy'n dangos yn glir pa mor gorfforol oedd gwaith yn y diwydiant glo.
An evocative image taken in the mid-80s that highlights the physicality of work in the coal industry.
---
Peter Fraser
Bu Peter Fraser yn tynnu lluniau o leoliadau cyfarwydd ei blentyndod, fel y parc yma ym Mhontypridd.
Peter Fraser re-visited areas familiar from his childhood in South Wales, such as this park in Pontypridd.
---
Roger Tiley
Y nos yn cau ar Lofa Lewis Merthyr. Erbyn heddiw, dyma leoliad amgueddfa Parc Treftadaeth y Rhondda.
The night closes in on Lewis Merthyr Colliery. Today, it is the location of the Rhondda Heritage Park museum.
---
William Tsui
Bu William Tsui yn tynnu lluniau ym mhentrefi Abergwynfi a Blaengwynfi yng Nghwm Afan.
William Tsui's images included portraits of individuals at work and at home in the Afan Valley, such as this photograph of Ann Williams.
Mrs Little & Mrs Evans.
---
Wally Waygood
Delwedd fawr Wally Waygood o löwr, gydag adlais o eiriau'r Brenin Edward VIII yn 1936, 'Something will be done'.
Waygood's photo-montage 'memorial' to a historic moment in 1936 when King Edward VIII proclaimed to an assembly of unemployed miners in Merthyr Tydfil, 'Something will be done'.
---
Mae'r arddangosfa 'Chronicle' i'w gweld yn Oriel Turner House, Penarth tan 4 Awst 2018.
The 'Chronicle' exhibition continues until 4 August 2018 at the Turner House Gallery in Penarth, near Cardiff.
Mwy o orielau lluniau ar BBC Cymru Fyw // More photo galleries on BBC Cymru Fyw:
[ad_2]