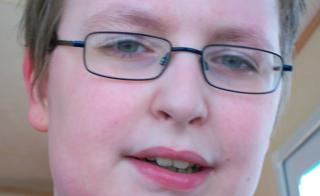 A malnourished teenager who was likened to a World War Two concentration camp victim "couldn't be told what to do" after turning 18, a court has heard.
Jordan Burling weighed less than six stone (37kg) when he died at his home in Farnley, Leeds on 30 June 2016.
His mother Dawn Cranston told Leeds Crown Court her son saw himself as the "man of the house" when he became an adult and would not see a doctor.
His mother, grandmother and sister have denied manslaughter.
Read more stories in Leeds and West Yorkshire
Earlier in the trial an NHS dietician told the court it was fair to compare Mr Burling's condition when he died to a "World War Two concentration camp" victim.
Beginning his cross-examination of the defendant, prosecutor Nicholas Lumley QC asked Mr Burling's mother why she had not taken action when her son was "disappearing before your very eyes".
She replied they all "thought he was going to get better" and were caring for him.
When asked if she could have done something sooner, she answered: "I didn't want him to die, I listened to what he wanted.. I started to shut down."
Ms Cranston, 45, said they had all attempted to convince Mr Burling to see a doctor as his condition worsened, but he refused to.
Ms Cranston, Mr Burling's grandmother Denise Cranston, 70, and his sister Abigail Burling, 25, all deny killing him.
They also deny an alternative count of causing or allowing the death of a vulnerable adult.
During questioning by Jason Pitter QC, defending Denise Cranston, Mr Burling's mother described her son as "extremely determined" and said he "used to speak his mind".
When asked if turning 18 was important to him, she replied: "It was a big deal, he thought he was the man of the house, you couldn't tell him what to do – he used to say it all the time."
On Thursday, the court heard Mr Burling's health changed dramatically in April 2016 where he started to remain in the same position all day, had bed sores and became incontinent.
When pressed on his health, she said: "I started to shut down, when I get in times of stress I don't see the bigger picture."
The jury also heard more details about a rucksack containing the remains of a newborn child, found during a police search of the Butterbowl Garth property as officers investigated Mr Burling's death.
Ms Cranston said she had given birth alone in an upstairs bedroom while her family were downstairs.
During the prosecution opening, the court heard Ms Cranston had admitted one count of endeavouring to conceal the birth of a child.
The jury heard she had not realised she was pregnant until she gave birth because her periods had always been "erratic" and she had not felt any kicks or movement.
She told the court "she tried everything" for up to an hour including mouth-to-mouth resuscitation but there "were no signs of life at all".
The jury was then shown images of plastic bags and a rucksack the baby's body was placed in.
The remains were found in a cupboard about 14 years later during a search of the house in the wake of Mr Burling's death.
"Nobody in the house knew, I didn't want to worry my parents," Ms Cranston said.
The trial into Mr Burling's death continues.