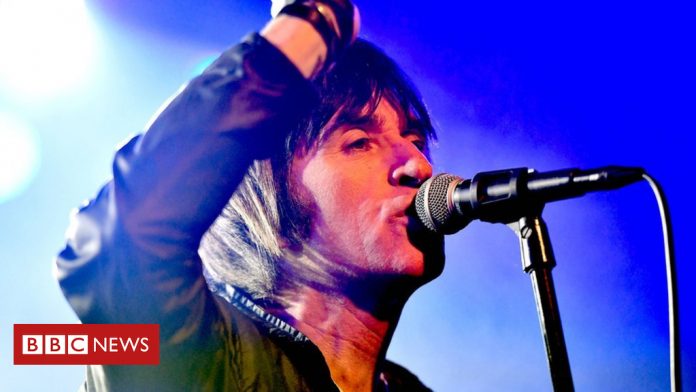 [ad_1]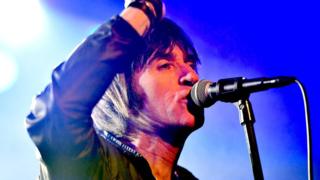 "As far-fetched as it sounds," ponders Johnny Marr, "mankind has been calling out for help to some invisible force in the sky for as long as recorded time.
"So if people can be summoning their gods, then it's not that much for me to ask to summon up a bunch of beings called the Tracers."
The extraterrestrial creatures are the focus of the lead single from Marr's third solo record, Call the Comet, and help the former Smiths guitarist underline the urgent problems we're facing down here on earth.
Following the Arctic Monkeys' recent moon-age jazz rock record and Noel Gallagher's foray into "cosmic pop", it seems pop stars are suddenly looking to the heavens for answers again too.
"It's funny actually that [all] of us have leaned towards other-worldly kind of inspirations," says Marr. "The timing is quite uncanny – maybe there's something in the air."
For his album, the 54-year-old invented his own musical landscape in an imagined society instead of "sitting and bitching about" the world around him.
"The Tracers is this idea that I had about a sort of intelligence, if you like, either from a different dimension or another planet that is essentially just an evolved version of us" he explains.
"Us, only 30-40 years hence from now with with all the benefit of hindsight and our wisdom – the idea being that we just need a bit of help maybe.
"The first thing they do is say; 'OK then, what about the oxygen levels? They don't look too healthy and while we're at it the sea levels could do with fixing. And what about these political characters, let's stick them in the bin.
"'And here's an idea: If you want to know about us evolving how about everybody being slightly more tolerant of each other's beliefs, however wacky they may seem and certainly when it comes down to people's birthplaces and preferences of sexuality'."
He adds: "Just those really obvious things, they seem just around the corner to me."
"It's also got a very good riff on it, which is very important."
Factory record
Indeed, the "third chapter" of Marr's solo career contains some typically interstellar guitar playing; with layered effects that provide the building blocks of his brave new sonic world.
Like the first Smiths' record, Call the Comet was recorded in a factory – this time on the outskirts of Manchester – which helped Marr "escape" from the harsh realities of modern life and disappear into an industrial "vortex".
"I ended up walking around the corridors at half four in the morning getting a vibe going on my own," he says.
For one track, New Dominions, he put an 80s drum machine through a load of guitar pedals to make an echo-drenched beat, then left it running all night to "soak up this vibe".
"At the same time I had a Fox News feed from a projector on one wall and Al Jazeera going on on another wall.
"I just had that going for ages until I worked out what story this beat was going to conjure up."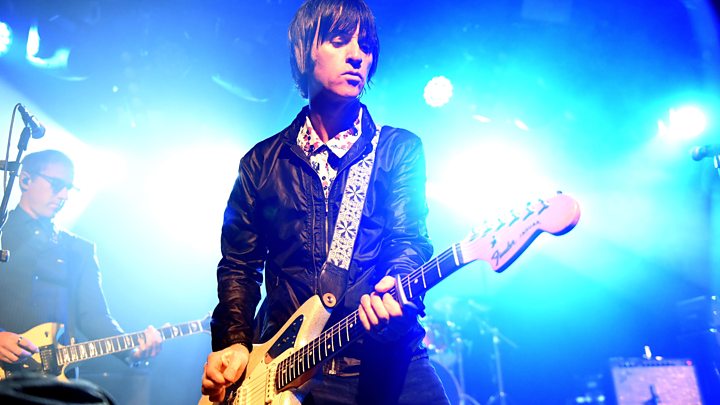 The news footage inspired lyrics about escape and release – "If I could do anything / I'd burn up faster / I'd fast-track through into a new dominion".
And in a similar vein, the album's opening track, Rise, carries the repeated refrain, "Hear the truth, hear the truth."
"This phrase fake news is so convenient for people who actually lie," Marr muses.
Read more: The musical journey of John Martin Maher
Head to Music News LIVE for today's rolling coverage.
Another track, Bug, refers to the surge in right-wing politics as a virus that needs to be wiped out – but even the record's most overtly-political moment comes clad in a catchy hook.
"I think if I was to ruin my songs by preaching about this stuff, no-one wants that.
"People want me to write good tunes with good riffs, so I'll get on with that and that's my bit for the resistance."
For more than 30 years the singer/songwriter has been doing exactly that – working with bands like The The, Electronic, The Cribs and Modest Mouse, as well as composer Hans Zimmer and actress Maxine Peake.
He went straight into writing his new LP after the "very, very satisfying" process of completing his 2016 autobiography, Set the Boy Free; and the lyrics contain many of the socially-conscious bohemian sentiments that many Smiths fans have been yearning for, especially given the incendiary comments attributed to the band's frontman Morrissey.
Marr skilfully navigates an attempt to discuss Morrissey's own autobiography ("I don't have a lot of rock books") and shuts down any further questions on the topic, in no uncertain terms.
In fairness, the guitarist says writing his own book made him keen "to get away from the past".
"I really was done with introspection, thinking and analysing the story of my life.
"I needed to escape from my own past so making Call the Comet was a complete fresh start."
Despite having moved on, Hi Hello, sounds eerily reminiscent of his old band's anthem, There Is A Light That Never Goes Out – and Marr will forever be synonymous with The Smiths and Manchester.
He addresses the 2017 terrorist attack on his home town on the new album's final track, A Different Gun.
Initially written about the Bastille Day tragedy in Nice, Marr was recording the song when news started to break of a bomb outside Ariana Grande's concert at the Manchester Arena.
He initially had second thoughts about including it on the album but "something in me said that I was being a bit of a chicken if I didn't tackle it."
"I was trying to musically create a song that paid tribute to this feeling that I couldn't quite shake off.
"So I did what I've done all my life really, since I was able to play, I just tried to turn it into music."
He adds: "When something that you cherish is under attack people come together in defiance and togetherness.
"I saw Mancunians go 'This is beyond crossing a line and beyond being about human safety. This is about our identity and about who we are and our dignity and our strength.'
"It made me very proud but not particularly surprised."
Johny Marr's third solo album, Call the Comet, is out now.
Follow us on Facebook, on Twitter @BBCNewsEnts, or on Instagram at bbcnewsents. If you have a story suggestion email [email protected].
[ad_2]