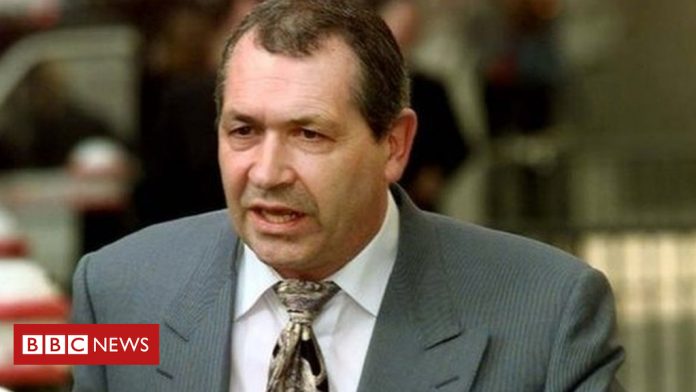 [ad_1]

A notorious conman shot dead in his garden may have been watched by his killer through a fence spyhole before his death, police have said.
John "Goldfinger" Palmer, 65, once described as Britain's richest criminal, was shot dead in the garden of his Essex home on 24 June 2015.
Photographs of the hole in the fence around his home been released.
A reward to help catch the killer has been doubled to £100,000 by his family nearly three years after his death.
Palmer – whose nickname derives from his connection to the 1983 £25m Brink's-Mat gold bullion robbery – was jailed in 2001 for a £20m timeshare fraud.
Palmer was shot six times by a killer who entered the garden over the fence at his home in South Weald, near Brentwood.
Essex Police said the killing had "all the hallmarks" of a professional hit.
Detectives believe the hole in the garden fence suggests the killer may have been watching Palmer in the days before his death.
His partner Christina Ketley said: "It haunts us every day to think that whoever was responsible was clearly watching John, stalking him like an animal before brutally and callously ending his life."
Detectives have recovered five of the six bullets used to kill him.
Roger Critchell, director of operations at the charity Crimestoppers, said: "We understand that people are not always willing to go to the police so we would urge them to contact Crimestoppers with 100% anonymity."
Bullion from the Brink's-Mat robbery was melted down in a shed in the grounds of Palmer's country house at Lansdown, near Bath.
However, he denied knowing the gold was stolen and was acquitted in 1987.
The former scrap metal dealer from Olton, near Birmingham, started his criminal career young – selling paraffin off the back of a lorry after leaving school at 15, unable to read or write.
His criminal activities netted him an estimated fortune of £300m, but justice eventually caught up with him when he was jailed in 2001 for a massive timeshare fraud in Tenerife.
At the time of his death he was due to stand trial in Spain on charges of fraud, firearm possession and money laundering.
It was later revealed he had been under police surveillance since 2007.
Then, in September 2016, the BBC discovered an operation codenamed Alpine had been gathering intelligence on him from RAF Spadeadam in Cumbria since 1999.
[ad_2]