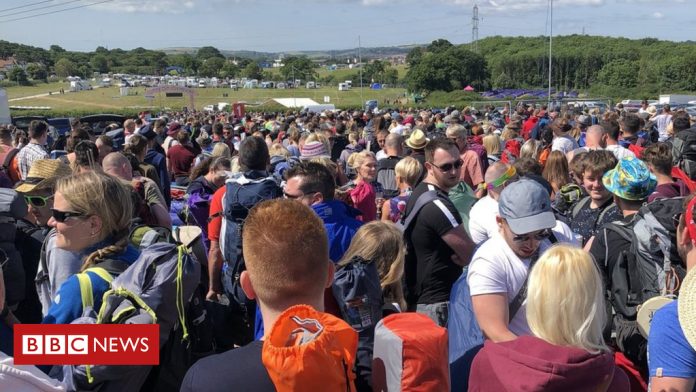 [ad_1]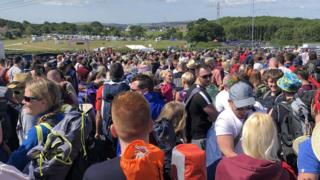 Ticketholders at the Isle of Wight festival have reacted angrily as music fans queued for up to seven hours to get into the event.
Those arriving on Thursday took to Twitter to complain as they waited in 20C temperatures and crowded conditions.
Revellers reported being pushed and shoved inside a "disorganised" crowd at the festival gates.
Organisers apologised and blamed extra security measures for the delays.
Thousands are expected at the festival, which is celebrating its 50th anniversary with headliners Depeche Mode, The Killers and Kasabian.
'Wiggly maze of people'
Mistress Lady Tess tweeted: "Something needs to be done. People are fighting each other, absolutely no indication where the queue end is it's like a wiggly maze of people.
"You need stewards or @HantsPolice back here before there are riots! This heat, lack of water, children about and alcohol involved."
Organisers said the good weather had encouraged many people to arrive early.
A statement said: "We sincerely apologise for the delays in entering the festival today, this is due to extra security measures on the gates.
"We are doing everything we can and have opened a number of lanes to help get everyone in as quickly and safely as possible."
But Les Cashmore tweeted: "The security checks are not the issue, it's the total disorganisation of your officials not able to prevent people pushing in & organise some proper queueing measures! It's a disgrace you have not been better organised!"
Hampshire Constabulary said it had not been called to any fights or disorder at the site.
The festival runs until Sunday.
[ad_2]