[ad_1]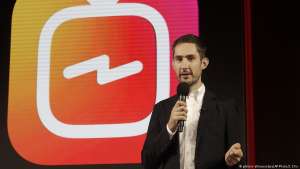 © Deutsche Welle
Facebook-owned social networking platform Instagram unveiled a new video mobile app on Wednesday designed to allow for longer user-generated videos.
The new app, dubbed IGTV, will increase Instagram's video time limit from one minute to 10 minutes for most viewers. Accounts with larger audiences will be allowed to post videos up to an hour long.
"Teens are now watching 40 percent less TV than they did five years ago," Instagram chief executive Kevin Systrom said at an event to announce the launch in San Francisco. "It's time for video to move forward and evolve."
Instagram, which was founded as a photo-sharing app in 2010 and was bought by Facebook for $1 billion in 2012, has surpassed 1 billion accounts, Systrom said.
Competing with YouTube
Systrom told the Associated Press that he hopes IGTV becomes a hub for creativity that allows for relative unknowns to become internet sensations.
That transformation is happening on YouTube, a video platform Google purchased 12 years ago for $1.76 billion. YouTube now boasts 1.8 billion users.
The platform is the latest page Instagram has taken out of a competitor's book, this time from Google video streaming service YouTube. Facebook and Instagram have also copied Snapchat's "stories" feature, which allows users to post a slideshow that disappears after 24 hours.
Attracting stars
Facebook, YouTube and Snapchat have been spending heavily to develop mobile video services that attract both young users and corporate advertisers. Courting stars to post videos on their platforms is part of their strategy.


© AP
In this Tuesday, June 19, 2018, photo Kevin Systrom, CEO and co-founder of Instagram, prepares for Wednesday's announcement about IGTV in San Francisco. Facebook's Instagram app is loosening its restraints on video with a new channel that will attempt to lure younger viewers away from Google's YouTube and pave the way to sell more advertising. (AP Photo/Jeff Chiu)


Instagram said it has signed up internet stars for IGTV, including Lele Pons, who has 25 million followers. But Pons, who also has more than 10 million subscribers to her YouTube channel, insists she will not play favorites between the two platforms.
"I'm still going to be posting on YouTube as well as on Instagram," said Pons, who plans to launch a new cooking show on IGTV.
IGTV will be available as part of Instagram's mobile app and as its own app, Systrom said. Its programming will consist exclusively of vertical video designed to fit a standard mobile screen, as opposed to YouTube's horizontal video format. The service will not have advertising at the start but is expected to run commercials eventually.
MSN Loneliness Campaign: Could you go a week without seeing anyone? We're helping three charities raise funds for the 9 million people affected by Britain's 'silent epidemic'. Find out more and please donate now.
[ad_2]