[ad_1]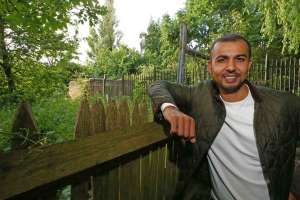 © Provided by Independent Print Limited


The new owner of a woodland glade on Hampstead Heath that was the subject of a Hollywood movie says he wants to keep the overgrown plot as an "iconic site" and has no plans to build on it.
Kashif Yousaf Chowhan, 32, told the Standard he had read about the history of the site, where the man dubbed Britain's richest tramp lived in a shack for 20 years, before it came up for auction last week.
Mr Chowhan, who is a director of family housebuilding business City Home Properties, sent his father Mohammed Yousaf to the sale at the Marriott hotel in Grosvenor Square last week and instructed him to bid for it.
The family saw off a joint bid from the Heath and Hampstead Society and the City of London Corporation to buy it for £154,000 from the homelessness charities Shelter and Centrepoint. 


© Provided by Independent Print Limited
HarryHallowes.jpg


They had inherited the 7,000 sq ft piece of land from tramp, Harry Hallowes, when he died in 2016. But the decision to sell raised fears that houses could be built on a tranquil corner of one of London's biggest open spaces.
Mr Chowhan, who lives in Redbridge, said: "It is very rare that you come across such an iconic site on the market. I thought it would go for millions. There is a lot of history behind it and it feels good that the money has gone to such a good cause.
"There is no intention to do anything with it in terms of building on it. It's got a beautiful history and the charities seem very pleased with the outcome. I look forward to reaching out to them."
Mr Hallowes's successful battle to fight off eviction inspired the 2017 movie Hampstead starring Brendan Gleeson as a man living in a makeshift camp on the heath. Diane Keaton and James Norton also appeared in the film. Mr Hallowes won legal ownership in 2007 when he made a successful claim under "squatters' rights" after proving that he had been the sole occupier for at least 12 years.


© Provided by Independent Print Limited
19-jun-nh-hampstead-heath-031E.JPG.jpg


The charities' decision to sell the plot on the open market infuriated the corporation, which said it feared the new owner would be tempted to build on it near Victorian mansion Athlone House in the north-east corner of the heath. However, there are strict legal covenant and restrictions that limit how the land can be developed. The site is boarded up and virtually inaccessible.
Karina Dostalova, chairman of the corporation's Hampstead Heath management committee, said: "We are very disappointed that the land was put up for public auction. This land is entirely surrounded by Hampstead Heath, which must be protected from the threat of development. We will vigorously enforce all legal restrictions possible which are in place to protect the heath and to safeguard its ecology and unique character."
However, in a statement the charities said: "Shelter and Centrepoint are very pleased the land left to us by the late Harry Hallowes has sold at auction which will allow us to carry out our vital work for homeless people in London – something Harry felt so passionately about and wanted to be his legacy.
"The £75k raised will allow Shelter to provide face-to-face support and legal advice to 3,000 people who are homeless or at risk of homelessness in London. Meanwhile, Centrepoint will use their £75k to provide life-changing psychotherapy to help relieve the devastating toll homelessness can have on a young person's mental health."
MSN Loneliness Campaign: Could you go a week without seeing anyone? We're helping three charities raise funds for the 9 million people affected by Britain's 'silent epidemic'. Find out more and please donate now.
[ad_2]