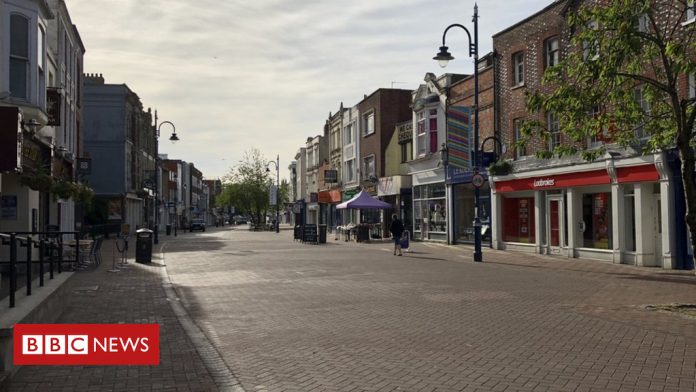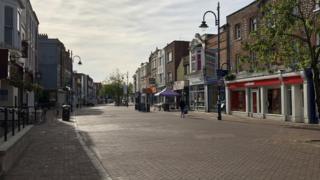 The town of Gosport is best known for its connections to the Royal Navy, but the report into the deaths of hundreds of patients at the War Memorial Hospital has thrust it into the spotlight for a very different reason.
How have the revelations affected the people of the town, and are residents worried about Gosport's reputation?
Walking along the precinct on the High Street early in the morning, there aren't many people around, save for a few heading to catch the ferry to Portsmouth for work.
In fact, the squawking of seagulls is the prominent sound beyond the dull roar of the nearby main road.
Understandably, among the few people already up and about, there is only one topic of conversation.
"I just think it's so incredibly sad and it has changed us as residents," said Jozelle Patterson.
The 37-year-old, from Rowner, fears the revelations could have a negative impact on how locals view their hospital, despite the fact it is now run by a new health trust and the deaths occurred between 1988 and 2000.
"To think you may need to send a relative to that hospital and not be able to trust it or be scared you won't see them again – it's awful.
"You take people to hospital for them to get better and this wasn't the case for so many people at that one, so it's really sad.
"I think it shows the state of our hospitals that things like this can still happen and it takes so long for the relatives or patients to have their concerns heard."
"I think Gosport will always be remembered for this. We just need to get to the bottom of why this happened and how they can now improve."
The precinct is only a short walk from the Gosport War Memorial Hospital and the report released on Wednesday is only the latest step in a saga which has been in the consciousness of the town ever since the issue came to light at the turn of the century.
Maurice Plummer said: "It's been looming over us all for years now and I think it's about time it all came out."
However, the 78-year-old is not particularly concerned about what the affair will do the reputation of the town.
"I think because it's all over the media right now everyone knows about Gosport but I don't think it will affect its reputation, just the hospital's," he said.
"The report definitely plays to people's fears if they've got to put a relative in hospital for something. To me it sounds like the people involved in the overprescribing were playing God and it's shocking to know other staff came forward and nothing happened."
The Gosport War Memorial Hospital is still a major part of people's lives in the town, and many people, like Debbie Clark, have been horrified by what they heard in the report.
She said: "It's just disgusting, absolutely horrifying that something like that could have happened to so many people. I've actually got an appointment at the hospital later today and since hearing about the report it's definitely given me some concerns.
"I think it's marked Gosport and worry people will think badly of it as a place now.
"I remember my mum having to go into the hospital and just having a horrible experience and not being able to see her. It just shows the power staff in hospitals have and this is definitely affecting us all as residents.
"I think everyone this morning will feel worried if the worst were to happen and people won't want to go there. I definitely think it's playing to people's fears, but the relatives who have kept fighting are amazing."
The tenacity of the relatives of people who had their lives cut short at the hospital is something that shines through. Despite the huge number of people who died due to what happened at the hospital, locals are taking heart from those who have fought for years for the truth to be heard.
Mary Bryant said: "I just think the families who kept fighting are amazing; they really have done their relatives justice.
"As a local resident it's terrifying to think this could have been happening all that time and people spoke up and weren't listened to, so many of those people could still be with us if the hospital had acted and I just think it's disgusting behaviour."
Despite what happened there, some are quick to point out that the hospital is a very different place these days, even if they feel the damage done by what happened there will hang over Gosport for years to come.
"The hospital, as far as I'm aware, it's actually really good now, but I think that depends on the staff you get because I've heard other people who have had really bad experiences, said 28-year-old Mark Warren.
"It just makes us all worry more at a time when you're likely to be worrying already.
"I don't know what it means for the future of Gosport – I think we'll know more in the autumn, like they said – but I don't think it will give us a good reputation at all. We've all got a bit of a cloud over us today, I think."