[ad_1]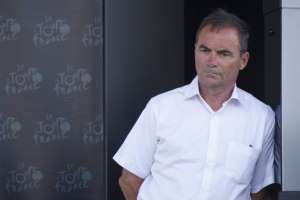 © REUTERS/Charles Platiau
Former french cycling champion Bernard Hinault is seen in Monte Carlo


Five-times Tour de France winner Bernard Hinault has called for riders to strike if defending champion Chris Froome, who is under investigation over an adverse doping test, takes part in this year's race.
Froome tested positive for excessive levels of the asthma drug Salbutamol following a urine sample at last year's Vuelta a Espana.
The 33-year-old has denied any wrongdoing and is confident that he will be cleared after the investigation by the sport's governing body Union Cycliste Internationale (UCI).
Related: Froome completes historic Giro win (Perform)
"Christopher Froome should not be at the start of the Tour," Hinault was quoted as saying by British media.
"The peloton should put its feet to the ground and say, if he is starting the race, we won't start.


© (Photo by Tim de Waele/Corbis via Getty Images
Bernard Hinault


"Quite simply because he has tested positive, for me this is not an abnormal test. The people at the UCI should have said, you have been caught, so you should not be racing."
Hinaulte has said that Froome should not have been allowed to compete at the Giro d'Italia and that the Briton cannot be listed among the sport's greats.


© Massimiliano Ferraro/NurPhoto via Getty Images
The cyclist Chris Froome of Team Sky before the start of the 19 stage Venaria Reale- Bardonecchia of Giro d'Italia 2018 on May 25, 2018 in Venaria Reale, Turin, Italy.


Froome, who has won the Tour de France four times, became the first Briton to win the Giro d'Italia in May.
Related: The Tour de France and other World Cup distractions (Omnisport)



Wimbledon, U.S. Open and Tour de France – 10 World Cup distractions


(Reporting by Aditi Prakash in Bengaluru; Editing by Peter Rutherford)
[ad_2]