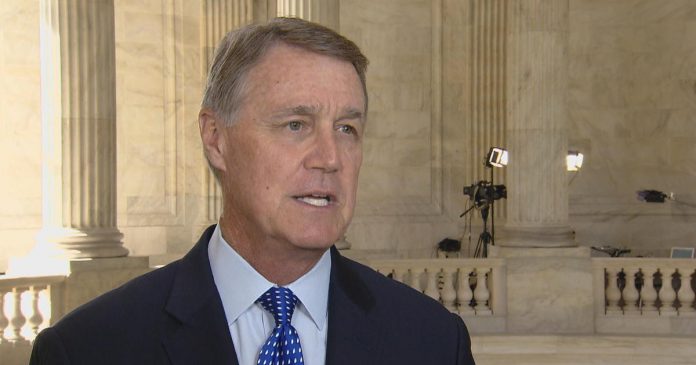 [ad_1]

Last
Updated Jun 19, 2018 1:08 PM EDT
GOP Sen. David Perdue became visibly frustrated with a question about the separation of immigrant children from their parents at the southern border during a press conference on spending and the debt Tuesday, saying the press conference's focus was the debt, not the "current shiny object of the day."
The separation, a result of the Trump administration's "zero-tolerance" policy on illegal border crossings, has sparked outrage from Democrats and Republicans. But the Georgia Republican made it clear to reporters Tuesday he wanted to keep the press conference with a handful of other Republican senators, including Sen. Ted Cruz of Texas, Sen. Mike Lee of Utah and Sen. John Kennedy of Louisiana that he wanted to keep the focus on President Trump's request to Congress to cut $15 in spending. 
Perdue called the debt crisis the "number one topic" in the country today, and said he didn't want the few minutes they had "hijacked "by the "current shiny object of the day." 
Perdue made the comments after his colleagues had already addressed the separation issue in the press conference. 
The Trump administration has blamed the family separation policy on Democrats, even though it is the administration's decision to treat the border crossings as criminal, rather than civil offenses. Speaking to the National Federation of Independent Businesses (NFIB) on Tuesday afternoon, Mr. Trump said the change is up to Democrats, although Republicans control the White House, House and Senate. On Tuesday, Sen. Ted Cruz, R-Texas, and Rep. Mark Meadows, R-North Carolina, two conservative Republicans said they are introducing legislation to put an end to the family separation. 
It is unclear yet whether Mr. Trump, however, will go for a stand-alone bill. So far, White House officials have yet to give a definitive answer on that, as GOP House members prepare to meet with Mr. Trump on Capitol Hill Tuesday. Mr. Trump has publicly insisted that he wants sweeping changes to "fix the world's worst immigration laws."
© 2018 CBS Interactive Inc. All Rights Reserved.
[ad_2]