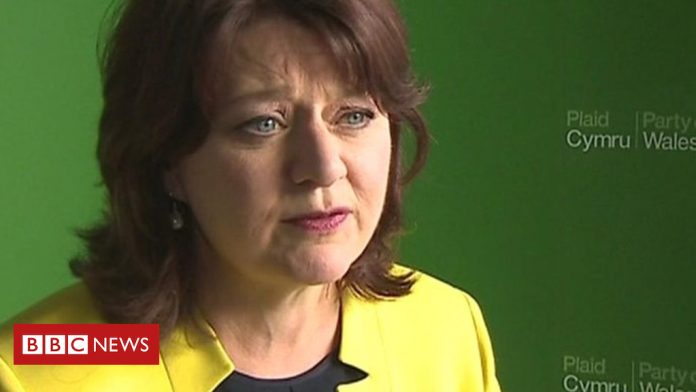 [ad_1]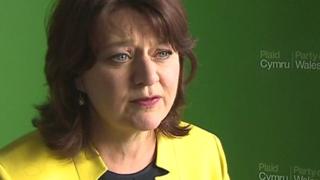 The world of political predictions is a mug's game but I'm going to call this one and I'm prepared to eat humble pie on 4 July.
I was told on Twitter this week that stories about the leadership of Plaid Cymru were as a result of "media stirring".
Here is my case for the defence and why I think there will be a three-way battle for the top job.
Much was made on Tuesday of Rhun ap Iorwerth's remarks denying any plan to challenge Leanne Wood, but here's some context.
Plaid have an official window whereby any member of the assembly group can put their names forward for the leadership. It comes around every two years and it's open for another three weeks.
The party also have a weekly news briefing with journalists, each member of the group taking it in turn to appear. What an opportune time it was to ask Mr ap Iorwerth about his intentions.
"No plans to challenge" he said, as question after question honed in on the same subject.
What else could he say?
Some took it to be a categorical assurance that he wouldn't challenge Leanne Wood. "Plans" change, of course, and I suspect they changed 24 hours later.
That's when an emboldened Leanne Wood said she would "welcome" a challenge. In a BBC interview she mentioned Rhun ap Iorwerth by name and her opposition to the Wylfa Newydd nuclear power station became evident. It's a project he's supporting.
It all amounted to what looks like a "put up or shut up" strategy and opened the door for "plans" to change.
Those close to Rhun ap Iorwerth say he's coming under increasing pressure to stand; that was Wednesday night, by the way.
On Thursday morning sources close to Adam Price were saying the same thing. He's got the backing of councillors and constituency parties in Carmarthenshire already.
But does he want it? Mr Price, currently on paternity leave, hasn't come under the same amount of scrutiny as his potential rivals this week.
In 2016 he was described by MP Jonathan Edwards as a "once in a generation politician … an X factor politician", labelled by some the "Mab Darogan" – prophetic son – of Welsh folklore.
Mr Edwards, as it happened, led Ms Wood's leadership campaign in 2012. It could be awkward.
So here's what will happen next – a drip, drip of stories about calls for both Rhun ap Iorwerth and Adam Price to stand. Watch out for something along the lines of "it's impossible to ignore what the members want" or "because Leanne has welcomed a challenge".
Three AMs have already signed a letter urging colleagues to stand.
It gives the challengers a way in to the contest, and the incumbent will at least have clarity about her position at the end of the process.
Behind the scenes I suspect it's game on already.
[ad_2]