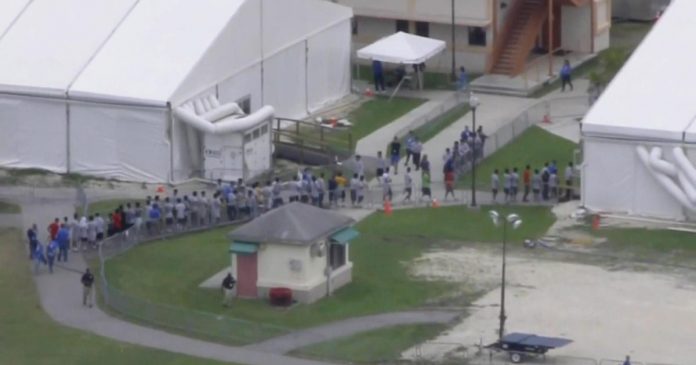 [ad_1]

HOMESTEAD, Fla. — The number of undocumented children held in federal detention centers is growing. The Department of Health and Human Services (HHS) said nearly 12,000 minors are living in its network of shelters right now. Most young people in shelters tried to cross the border on their own, but a growing number were forced to separate from their families. More than 800 of those kids arrived in the last week. 
The government said more than 1,000 teenagers live in the Homestead Temporary Shelter for Unaccompanied Children, reports correspondent Adriana Diaz. Florida Sen. Bill Nelson and Rep. Debbie Wasserman Schultz tried to visit Tuesday with a mission – but they were stopped by security.
"It is our responsibility to make sure that those children are cared for and to see that they are reunited with their parents," Nelson said, adding, "We are being denied entry to see about the welfare of children."
"This is an absolute outrage," Wasserman Schultz said.
Aerials shot Monday show some of the teens currently living at the facility, which is overseen by HHS. A June 2016 HHS video is the only view inside that the government has provided.
According to a former agency employee familiar with the shelter, it was originally designed under the Obama administration to handle the overflow of young people illegally crossing the border on their own. Now, almost 10 percent of the children living there have been separated from their families.
Homeland Security Secretary Kirstjen Nielsen insists the children at all facilities are well cared for.
"We operate according to some of the highest standards in the country. We provide food, medical, education and all needs that the child requests," Nielsen said Monday.
There are more than 100 shelters in 17 states currently housing undocumented minors, who stay for an average of 57 days. According to a former agency employee, that number has gone up under President Trump and with it, the cost to taxpayers.
"We need to find solutions," immigration advocate Julio Calderon said. He was once housed in a shelter like the one in Homestead. He said facilities nationwide are feeling the strain.
"Because of the over-capacity now it's not just at the border, it's not just an issue happening at the border. It has spread out," Calderon observed.
Officials cited a government policy requiring that visitation requests be submitted two weeks in advance when the lawmakers were turned away Tuesday. But a former HHS administrator tells that, given the current concerns about minors separated from their parents, he believes requests from lawmakers can and should be put on a faster track.
© 2018 CBS Interactive Inc. All Rights Reserved.
[ad_2]