[ad_1]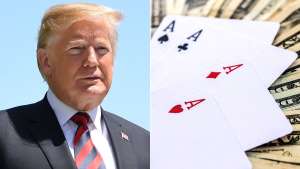 © Getty
US President Donald Trump


The EU has said its retaliatory tariffs on US goods will kick-in from Friday – six weeks after America slapped import duties on the bloc's steel and aluminium products.
Officials in Brussels, spearheading the member states' response, said the list of US imports that will now face an extra duty at the EU border includes steel and aluminium products, agricultural goods and a variety of other products.
Duties of 25% will be applied to the raft of US goods worth €2.8bn – including bourbon, make-up and motorbikes – from 22 June.
There is also a notable addition at the end of the long list of products – a 10% tariff on playing cards.
"We did not want to be in this position. However, the unilateral and unjustified decision of the US to impose steel and aluminium tariffs on the EU means that we are left with no other choice," said the bloc's trade commissioner Cecilia Malmstrom.
"The rules of international trade, which we have developed over the years hand in hand with our American partners, cannot be violated without a reaction from our side.
"Our response is measured, proportionate and fully in line with WTO rules. Needless to say, if the US removes its tariffs, our measures will also be removed."
The EU announced its response on Wednesday as the US and China were locked in a war of words over a threat of an extension of tariffs.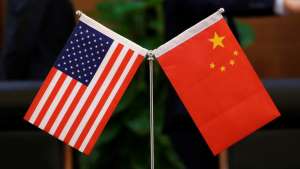 © Reuters
China and US trade talks


Last week, the United States imposed 25% tariffs on $50bn of Chinese products, with Beijing immediately retaliating by matching the US levy.
However, President Donald Trump has now asked officials to identify a further $200bn of Chinese goods to be subject to a 10% tariff.
There was shock when the world's largest economy confirmed earlier this month that it was imposing the duties on the EU, Canada and Mexico from 1 June, as part of Mr Trump's protectionist agenda aimed at saving US jobs.
Canada and Mexico followed with tit-for-tat tariffs on US steel and aluminium.
The trade battles have raised the spectre of an escalating global trade war, spooking financial markets that fear major consequences to the world economy.
The US measures have resulted in official complaints to the World Trade Organisation by those targeted, but such disputes have a habit of dragging on for months if not years.
Follow us on Facebook, and on Twitter
[ad_2]