[ad_1]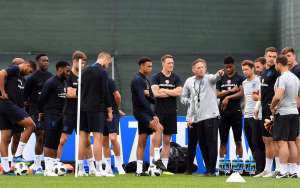 © Provided by The Telegraph
Raheem Sterling may sit out England's second Group G game against Panama after manager Gareth Southgate's team plans appeared to be accidentally leaked by his assistant Steve Holland.
Pictures emerged of the projected team for Sunday's clash in Nizhny Novgorod being carried by Holland at training in Repino on Thursday.
The line-up shows Ruben Loftus-Cheek in for injured Dele Alli, who did not train because of his thigh strain, and Marcus Rashford up front alongside Harry Kane.
That would mean Sterling, who was replaced by Rashford and criticised for his performance against Tunisia, starting the Panama game on the substitutes' bench .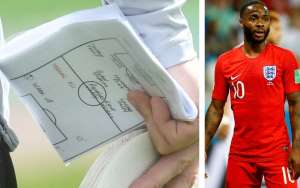 © Provided by The Telegraph
Southgate had been considering rotating his team to bring in Rashford for the Panama match, even before the victory over Tunisia, but there have been concerns over how dropping Sterling might affect his confidence.
Sources originally credited Southgate as holding the piece of paper that revealed the line-up, but it was later confirmed that it was in fact Holland carrying the notes in full view of watching cameramen.
Should the line-up be accurate and not a deliberate attempt to mislead Panama, then the leak represents a blow for Southgate who likes to keep his team selections a closely guarded secret.
England's training base in Repino is surrounded by three-metre high screens to stop opponents spying on training.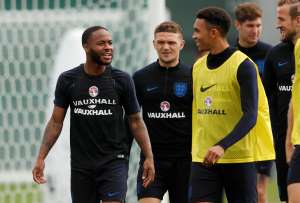 © Reuters
Soccer Football – World Cup – England Training – England Training Camp, Saint Petersburg, Russia – June 21, 2018 England's Raheem Sterling and Kieran Trippier during training REUTERS/Lee Smith


Loftus-Cheek has been favourite to replace Dele ever since the Tunisia match, even though it was Fabian Delph who was originally prepared to replace the Tottenham Hotspur star in the first half of the opening Group G game.
Other than the fact Loftus-Cheek performed well during his 10-minute cameo against Tunisia, there are suggestions Southgate would find it difficult to consider Delph for a starting place while he waits for his wife to give birth.
Delph has been given special permission to fly home if his wife goes into labour, meaning Southgate's plans would be subject to late change if the 28-year-old had to return to England on the eve of a match.
Meanwhile, Vincent Kompany is hoping to declare himself fit in time for England's game against Belgium next Thursday. Dedryck Boyata is expected to start again against Tunisia, but Kompany may be considered for a return in what could prove to be the game that decides which team tops Group G.
MSN Loneliness Campaign: Could you go a week without seeing anyone? We're helping three charities raise funds for the 9 million people affected by Britain's 'silent epidemic'. Find out more and please donate now.
[ad_2]