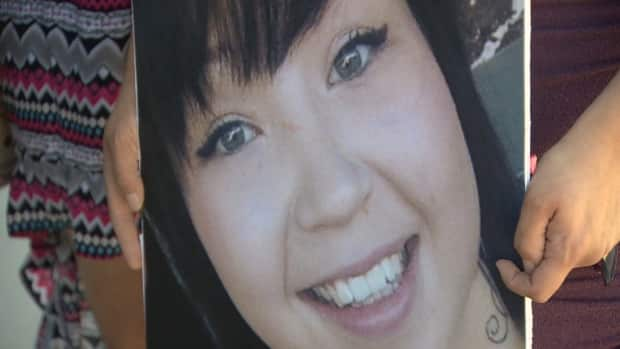 [ad_1]

The family of a woman reported missing the same day her boyfriend is alleged to have murdered a man in Lac La Biche, is pleading for her safe return.
Mandi Boucher, a 26-year-old mother of one from Buffalo Lake Métis Settlement, has not contacted her family since Oct. 28, 2017, her sister Brittany Boucher told reporters on Wednesday.
"Please, Mandi, if you are out there somewhere, call me, message me, even just let us know you're OK," Brittany Boucher said. "We're dying inside." 
Mandi Boucher was last seen on Oct. 28, 2017 on the Buffalo Lake Métis Settlement. (RCMP)
Mandi Boucher, a Métis woman with brown hair and green eyes, is five feet one inch tall and weighs 150 pounds.
"It's not like Mandi to go this long without contact with family or friends," Brittany Boucher said at a news conference organized by the family through the RCMP. 
The family is asking anyone with information about the disappearance to contact police. 
"The pain that fills our hearts is something we wouldn't wish on anyone. We're desperate for answers," said Brittany Boucher, who added that she's been preparing for the worst. 
Her sister said that at the time of her disappearance, Mandi was in a relationship with Lloyd Boudreau.
Boudreau is wanted on a Canada-wide warrant for first-degree murder in the Oct. 28, 2017 death of Michael Mountain.
RCMP say Mandi Boucher is not believed to have been involved in the homicide and that they are concerned for her well-being.
At Wednesday's news conference, Mandi's great aunt Delia Boucher addressed her words directly to Boudreau, asking him to bring her niece home safe and sound.
"We love her. Turn yourself in, because you're putting us through hell. I want my niece back, and they want their sister back," Delia Boucher said as Brittany and Mandi's younger sister Alannah held back tears. 
Mandi Boucher's sisters Brittany (left) and Alannah (right) pleaded for her safe return on Wednesday with their great aunt Delia Boucher (centre). (CBC)
Police said Boudreau is considered armed and dangerous, and people should not approach him.
He's described as Métis, five feet six inches tall and 188 pounds, with black hair, brown eyes and tattoos on his neck and face.
In a statement, RCMP said they are following up on tips and actively looking for Mandi Boucher and Boudreau. Police said they believe several people may be assisting Boudreau in evading authorities. 
"We'd like more information about possible sightings," Brittany Boucher said. "Sometimes we feel like we are left out of the loop.
"The scariest feeling is the unknown."
Lloyd Wesley Boudreau, of Lac La Biche, is wanted for first-degree murder. (RCMP)
[ad_2]