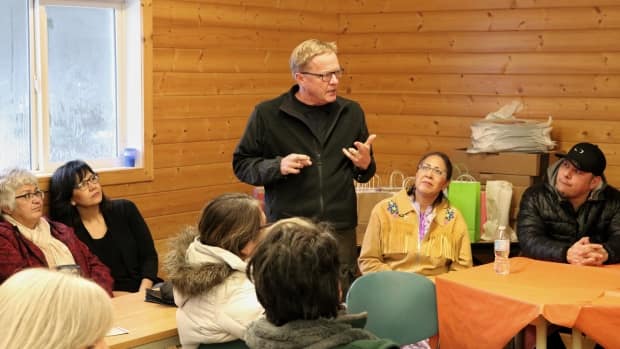 [ad_1]

A new northern Alberta school district is blazing a trail for Indigenous-led education in Alberta and the rest of Canada.
The Kee Tas Kee Now Tribal Council Education Authority was formed for the current school year by five First Nations which are home to six schools.
Up to this year, the nations involved — Loon River First Nation, Lubicon Lake Nation, Peerless Trout First Nation, Whitefish Lake First Nation and Woodland Cree First Nation — each had their own curriculum in their schools.
Under the new framework, the schools have the same land-based learning program for students, with the goal that consistency will help educators learn from each other and lead to better attendance and graduation rates.
Land-based learning includes teachings on Cree culture, finding and harvesting medicinal plants and teaching survival skills.
Alan Rollins, CEO of the Kee Tas Kee Now Tribal Council, said he's thrilled the education authority is finally operational after more than 20 years of trying to get it up and running.
"This has been a long, long process," Rollins said. "This was a coming together of a number of First Nations to work co-operatively."
Alan Rollins, the CEO for the Kee Tas Kee Now Tribal Council, says the education authority has been talked about for more than a decade. (Alan Rollins/Supplied)
A single board for First Nations schools may seem long overdue, Rollins said.
But many communities saw their culture and language taken from them during the residential school system and only gained control of their education 30 years ago.
Things are moving quickly now with the introduction of the education authority, Rollins said.
"They have done in 30-odd years what took the province over a century to do," he said. "I think that's kind of like, grease-lightning speed."
Isolation challenges
As their first year wraps up, there are already signs of success.
Attendance and graduation rates in the schools have improved, according to David Eggen, Alberta's education minister.
But there have also been challenges. The authority was desperate for teachers in early September.
The isolation can make it difficult for schools to recruit and retain teachers, said superintendent Daphne Mai'Stoina.
"The isolation factor is big," Mai'Stoina said. "It's huge."
Daphne Mai'stoina, the superintendent for KTCEA, says the isolation in some northern Alberta reserves can be a detriment. (Daphne Mai'stoina/Supplied)
Eggen, who attended one of the education authority's winter camps, said teaching in the communities is a unique opportunity.
"It's a wonderful place to teach," he said. "There's not two ways about it.
"Many people thrive in that environment, but they need to have those supports every step of the way."
Funding gap
Those supports are harder to come by at on-reserve schools as they are funded federally, not by the province.
Federally-funded schools receive far less money, Eggen said.
"With that funding gap, students are just naturally not getting as good of a quality education," he said.
In 2016, the Alberta government gave the authority $2.1 million in funding as a kick start.
"We're trying to bridge that gap and also encourage the federal government to pay their fair share, too," Eggen said.
Eggen said he watched the authority closely to see what worked and what didn't, lessons the province will apply to the Maskwacîs education authority, set to be formally announced Wednesday.
Eggen visited during one of their popular winter camps. (Government of Alberta)
Maskwacîs will be able to take lessons from Kee Tas Kee Now in dealing with isolation, communication and recruiting teachers and apply them to its education authority, Eggen said.
For Rollins, the lessons learned were to be expected.
"We are talking about five First Nations operating six schools in semi-isolation in north-central Alberta, so there's no urban environment to lean on," he said. "We're just out there, in the pine trees, trying to do the right thing.
"It's been one heck of a lot of fun, and I think these communities are starting to get there."
Mai'Stoina said joining an education authority may not be for every First Nation. She said a much larger nation, like Siksika Nation in southern Alberta, might want to keep its education separate from other First Nations.
"A lot of First Nations want their autonomy, and that's perfectly fine," she said.
But for smaller nations, pooling resources can help improve education outcomes, Mai'Stoina said.
Kee Tas Kee Now is already accepting three more schools from Northlands School Division next year.
And though the education authority is currently Cree only, all parties are open to accepting nearby nations that speak other Indigenous languages.
It's a partnership Mai'Stoina said she's happy to build, if there's interest.
"Ultimately, all of this is for the children," she said. "There is so much room for improvement, but at least we know where we're going and we have a good, strong organization to be able to move forward."
@kylemuzyka
[email protected]
[ad_2]