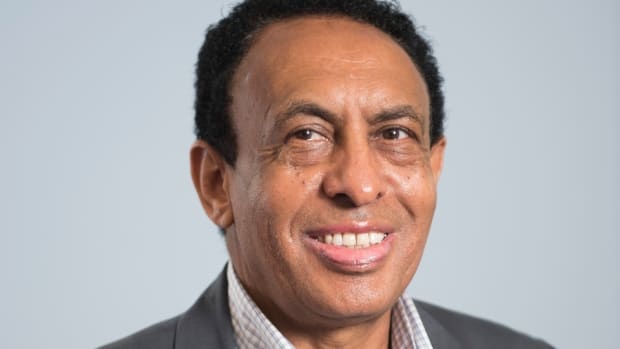 [ad_1]

The co-founder and former executive director of Africa Centre in Edmonton is suing the organization for more than $365,000, claiming he was wrongfully dismissed in March.
Tesfaye Ayalew was fired "without cause" amid allegations of abuse and sexual harassment involving a former employee. He has denied the allegations.
His lawyer, Drew Jarisz, filed a statement of claim on June 4 against the Council for the Advancement of African Canadians in Alberta (CAAC) on Ayalew's behalf. The lawsuit claims the CAAC "engaged in callous and high-handed behavior in regards to the termination of (Ayalew's) employment."
"A disgruntled former employee made some serious allegations against him, accusing him among other things of sexual misconduct," Jarisz told CBC News.
"He's seeking to restore his reputation and he will address the allegations made against him head-on."
The CAAC operates out of the Africa Centre in northeast Edmonton, offering family and educational support to the city's African community.
Ayalew was placed on paid administrative leave in early January, following allegations of abuse and sexual harassment.
A former Africa Centre employee made the allegations in her resignation letter to the board and other staff members in late December 2017.
The CAAC commissioned an independent third-party investigation and report, which was released the same week Ayalew lost his job in March.
Jarisz, who has read the report, said it "vitiated (his) client from any wrongdoing."
The lawsuit claims the report showed the allegations of abuse and harassment were unsubstantiated, that "the main issue was simply a demanding workload" and that the former employee's "dislike for Mr. Ayalew was the reason she had brought forward allegations of abuse."
In January, the Africa Centre board of directors said it had also received a letter from community members that alluded to three more women who had been affected by similar alleged misconduct.
The lawsuit claims the CAAC lied when it told media outlets, including CBC News, that three other women had come forward with complaints.
Jarisz described the situation as a witch hunt, based on allegations that were made "in a social environment where at any time an allegation of sexual misconduct against an individual in a prominent position was being brought forward, there seemed to be a rally-around-the-flag effect."
"Here, the allegation was false and the momentum behind the allegation led an innocent man to suffer significant damage to his reputation and lose his career," he said.
When contacted on Wednesday, Africa Centre chair John Gaye declined to comment on the lawsuit and refused to share a copy of the investigation report. He referred CBC News to his lawyer, Will Cascadden, who could not be reached by phone or email. 
The CAAC has until June 24 to formally respond to the lawsuit, either with a statement of defence or a demand for notice. As of June 20, the organization had not filed a statement of defence.
[ad_2]