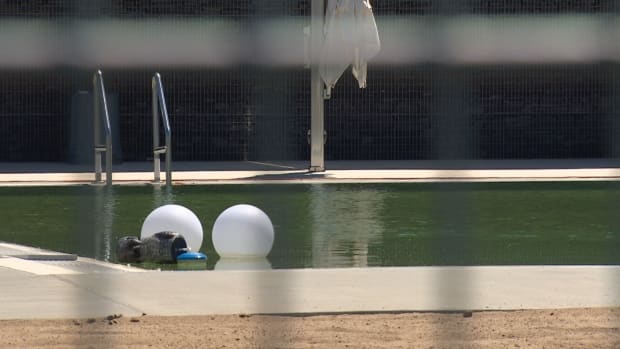 [ad_1]

Jacinte Lanctot brought her two toddlers to Borden Park on Wednesday, hoping to splash around in the park's new natural swimming pool for the first time.
She was two days early — the pool was scheduled to open on Friday — but it turns out the long-awaited opening has been delayed once again.
City of Edmonton spokesperson Christopher Webster said crews discovered a small leak in the pool's filtration system while testing and preparing for opening day.
Contractors from EllisDon are now working to fix the problem.
"They are working to resolve the issue so we can open our doors and welcome Edmontonians as soon as possible," Webster wrote Monday in an email to CBC News. 
He said he expects the repairs will take a few weeks.
"It's certainly disappointing," Ward 7 Coun. Tony Caterina said Wednesday. He said he was glad the problem was discovered before the pool opened.
Edmonton's first natural outdoor pool
When it opens, the pool will be the first of its kind in the city. Unlike a pristine blue swimming pool that relies on chemical filtration and chlorine, natural pools typically have cloudier water and a separate filtration pool nearby.
At Borden Park, the filtering pool is filled with sand, gravel and plankton. The filtering pool is beside the new swimming pool.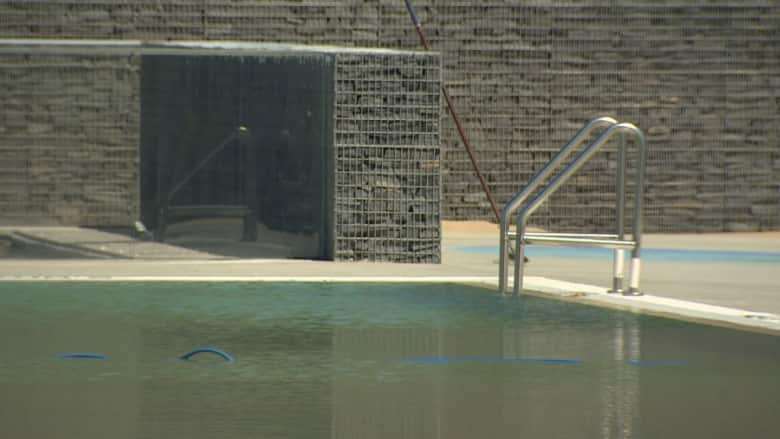 The pool's water looks murky because it relies on a natural filtration system. (Peter Evans/CBC)
The pool site also includes a large sandy area, with space for volleyball and picnics.
Not the first delay
This isn't the first time the project has been delayed.
Tenders for the original design came back costing more than twice the city's $14-million budget. The redesign took a year.
A lack of provincial regulations for natural pools also delayed the project, Caterina said.
"The province needed to set some standards on the circulation of water under this system."
Randi Nestor, who has lived across the street from Borden Park for 42 years, biked by the pool on Wednesday — as he does most days — to monitor the project's progress.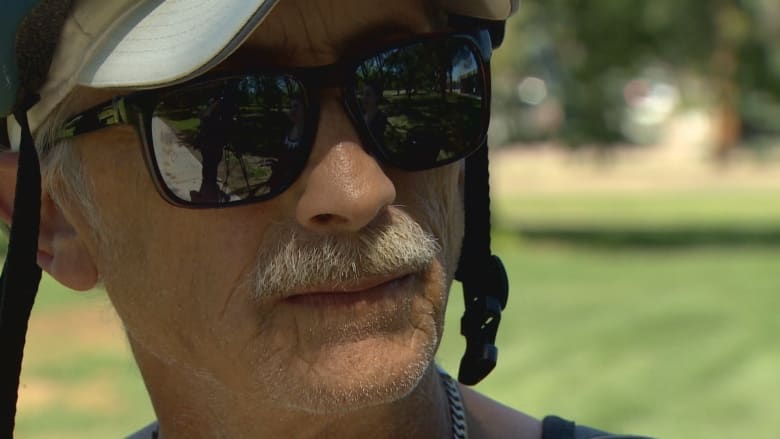 Nearby resident Randy Nestor said he was disappointed the pool's opening has been delayed. (Peter Evans/CBC)
Through a fence, he saw workers walking on the pool deck and using equipment.
"I just wish it would get done," Nestor said.
Still in their swimsuits, Lanctot and her children sat on a blanket in the grass, not far from the pool's south side. Lanctot said she liked the look of the sand around the new pool.
Donna Lein, who walked by the pool's west side, said the delay didn't surprise her.
"We live in Edmonton," she said. "It's typical."
[ad_2]