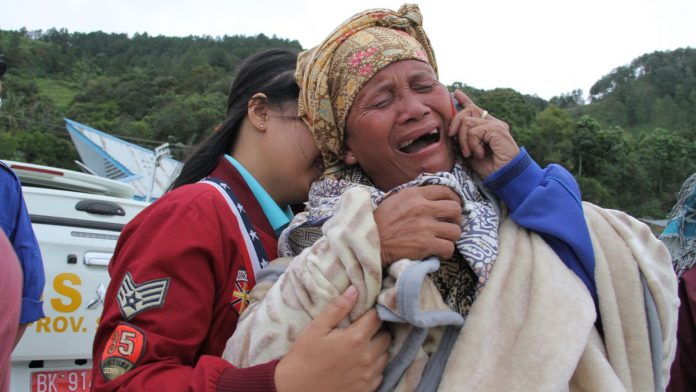 [ad_1]

At least 128 people are missing after a ferry sank in Indonesia, an official has said.
An estimated 18 people were rescued and one was confirmed dead after the wooden vessel Sinar Bangun sank off the port of Tigaras in Lake Toba on Monday.
Authorities have released the names of the 94 people confirmed as missing who were on board the ferry when it capsized in rough weather.
The figure is expected to rise as information from relatives is compiled.
"Many people have reported their relatives missing," Budiawan, head of the search and rescue agency based in the nearby city of Medan, told Reuters.
He said the overcrowded boat was filled with around 150 people and 55 motorbikes.
Several hundred rescue personnel are searching for survivors today, the national disaster agency said.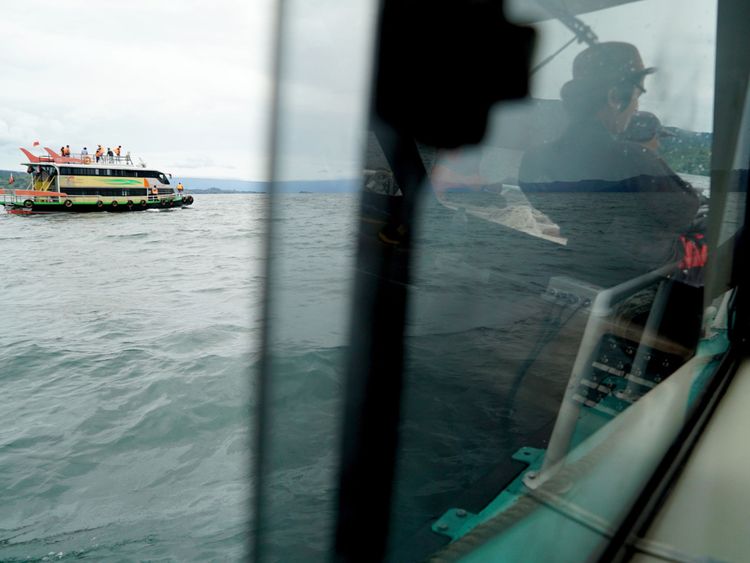 Bags, jackets an ID card and other items have been recovered from the waters, but no new survivors, according to a police statement.
The vessel was travelling on the 1,145-square kilometre (442 sq mile) Lake Toba – a popular tourist attraction on Sumatra island – when it capsized at around 5.30pm.
Authorities said they believe the ship was operating illegally with no manifest or passenger tickets.
It was not clear if any foreigners were on board.
Officials said dozens of people are likely still unaccounted for.
"There are 65 people who say their relatives are missing. So we are now searching for them," Riadil Lubis, head of North Sumatra disaster agency, told AFP.
Relatives have congregated at major ferry docks on the lake, waiting for news about their missing loved ones.
Mobile phone footage released by the National Disaster Mitigation Agency shows the crew of another ferry attempting to rescue survivors in the choppy waters.
One survivor, Juwita, who lost hold of her child in the disaster, told TVOne "it happened so quickly".
She added: "I wanted to grab my child but I couldn't. There were three people stacked on top of him."
Ferry accidents are common in Indonesia – a 17,000 island archipelago nation where many rely on boats to get around.
It comes after a longboat carrying around 43 people sank off Makassar on Sulawesi island last week, leaving 13 people dead.
In 2007, the passenger ferry Levina caught fire whilst journeying to the island of Bangka from the Indonesian capital Jakarta, killing at least 51 people.
It sank three days later, killing at least one more and leaving three missing.
[ad_2]