[ad_1]

The duo are more than just co-stars in Mama Mia! Here We Go Again. In an interview on The Late Late Show With James Cordenon Tuesday, Cher revealed that she and Streep have been friends for decades, and once saved a woman from being assaulted in the early '80s. 
"Meryl had just had [daughter] Mamie [Gummer], and we were downtown in her old apartment, and she said, 'I want some ice cream,' and I said, 'OK,'" Cher began, explaining that she had concerns about walking around Streep's neighborhood at the time. 
"I said, 'Isn't it dangerous down here?' And [Meryl] said, 'No, no, it's Little Italy on one side and Chinatown on the other side and we'll be safe as two peas in a pod,'" the GRAMMY winner continued. "And so we walk out and the first thing we see is some guy hitting cars with a brick. And then we walk down the street and we hear screaming. And we come around the corner, and this gigantic man is ripping the clothes off of this girl."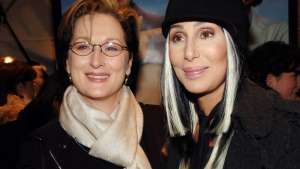 © Dimitrios Kambouris/WireImage


Rather than run away for help, Cher and Streep ran towards the man, prompting him to turn around and head their way. 
"Meryl starts screaming, and I start screaming, and we run toward this gigantic man and he turns and starts running toward us. And just out of — I don't know — we split and he ran through us," Cher recalled. "And so we went up to the girl, and all of her clothes were torn and she was clutching her bag."
"So we're putting her together, kind of trying to get her to look like she hadn't just been ravaged, and she looks at us, and she goes, 'Oh my God! I was saved by Meryl Streep and Cher. I'm an actress, and I work in a café where we sing, and all my friends are going to be so jealous,'" she said. 
During her time on The Late Late Show, Cher also played a game of "Spill Your Guts or Fill Your Guts," where she proved she'd rather eat a few questionable food items than reveal her favourite lovers. 
In pictures: Stars who have LGBTQ kids (provided by Wonderwall)
[ad_2]