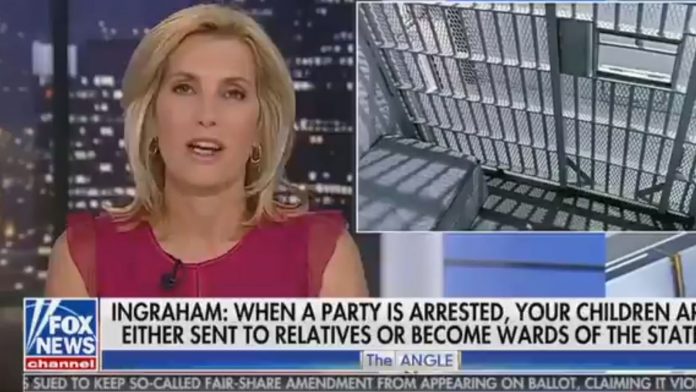 [ad_1]



Fox News is facing a Hollywood backlash after presenter Laura Ingraham described detention centres for children on the southern US border as "essentially summer camps".
In addition, Conservative commentator Ann Coulter, appearing on the channel, claimed children crying at the border after being separated from their parents were "child actors".
Creator of the animated sitcom Family Guy, Seth MacFarlane, which is made by Fox, tweeted that he was "embarrassed to work for this company".
Modern Family creator Steven Levitan said he would stop working for the company when the show ended.
"I have no problem with fact-based conservatism (such as WSJ), but Fox News's 23-hour-a-day support of the NRA, conspiracy theories and Trump's lies gets harder to swallow every day as I drive onto that lot to make a show about inclusion," he tweeted.
"I look forward to seeing Modern Family through to the end and then, sale or no sale, setting up shop elsewhere."
Rachel Maddow chokes up and cries on air as she struggles to deliver news that migrant babies and toddlers have been sent to "tender age" shelters pic.twitter.com/O6crm8cvyR

— Justin Baragona (@justinbaragona) June 20, 2018
Paul Feig, who directed comedies Spy and The Heat for 20th Century Fox, tweeted that he "cannot condone the support their news division promotes toward the immoral and abusive policies and actions taken by this current administration toward immigrant children".
Liz Meriwether, creator of sitcom New Girl, which aired on Fox, said she was "horrified and disgusted and furious".
Director Judd Apatow, who made Knocked Up, Trainwreck and The 40-Year-Old Virgin, said: "Where are the Fox stars and executives speaking up?! Imagine if it was your kids."
On the southern US border, migrant families are being split up and young children kept in cages in camps as part of a controversial clampdown on immigration introduced by Donald Trump's administration.
An audio recording has emerged which appears to capture the suffering and desperation of children separated from their parents.
In contrast to the tone taken by Ms Ingraham, MSNBC presenter Rachel Maddow broke down live on air as she read some breaking news about the Trump administration sending babies and other young children to "tender age shelters".
I am horrified and disgusted and furious. I don't know what adding my voice ultimately means to the powers that be, but I have to speak out. This must stop. https://t.co/5TtKaeS7zY

— Liz Meriwether (@lizmeriwether) June 20, 2018
In the opening to her programme, Ms Ingraham said: "Since more illegal immigrants are rushing to the border, more kids are being separated from their parents and temporarily being housed in what are essentially summer camps."
Before her hour-long show ended, Ms Ingraham responded to a backlash against her remarks on social media.
"Apparently there are a lot of people very upset because we referred to some of the detention facilities tonight as essentially like summer camps," she said.
"The San Diego Union-Tribune today described the facilities as essentially like you would expect at a boarding school.
"So I will stick to there are some of them like boarding schools."
The stories and images of families being separated at the border are gut-wrenching. Urging our government to work together to find a better, more humane way that is reflective of our values as a nation. #keepfamiliestogether

— Sundar Pichai (@sundarpichai) June 19, 2018
Ms Ingraham, who has three adopted children, including one from central America, said anyone concerned about Mr Trump's immigration policy should "open your hearts and homes" to migrants.
Fox News said Ms Ingraham's "very personal, on-the-ground commitment" to children spoke for itself.
She believes in a "common-sense, legal immigration system", the channel added.
In addition to outrage in Hollywood at Mr Trump's immigration policies, tech giants have also been protesting.
Microsoft said it was "dismayed by the forcible separation of children from their families at the border".
Google chief executive Sundar Pichai said stories and images about family separation were "gut-wrenching".
And Apple chief executive Tim Cook, in an interview with The Irish Times, said the policy "is inhumane. It needs to stop".
[ad_2]