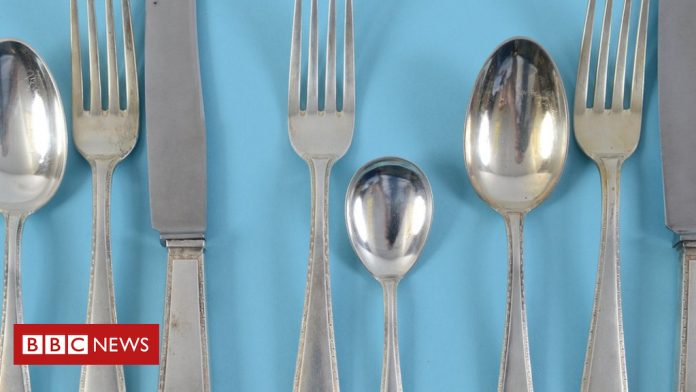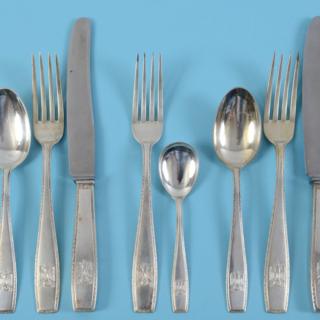 Cutlery made for Nazi leader Adolf Hitler to celebrate his 50th birthday is to be sold at auction.
The formal pattern silverware was discovered during a house clearance in Dorset, having belonged to a senior military officer.
The two knives, three spoons and three forks, which were created for Hitler's use during formal occasions, are expected to fetch up to £2,300.
Sherborne's Charterhouse Auctioneers said they were "a big part" of history.
It is not illegal to sell Nazi memorabilia in the UK, but such sales have led some to question whether it is tasteful.
MPs have previously urged a ban on selling these types of goods, and more recently Facebook was urged to block Nazi relic sales.
Richard Bromell, of Charterhouse Auctioneers, said: "About 3,000 pieces were produced for Hitler's 50th birthday. This is the first set I have seen in 33 years.
"Some will have been lost in the sands of time, others could be buried under rubble and some will have been discarded."
The cutlery bears the Nazi eagle, swastika and Hitler's initials.
"It's a niche market – some people will have interest, others will not – but it's a big part of modern history," he added.
Hitler was the Nazi leader of Germany from 1933 to 1945.
He initiated the Second World War in Europe, with the invasion of Poland in September 1939, and was central to the Holocaust.
The Nazi regime ended after Allied forces defeated Germany in May 1945, ending the war in Europe.
Hitler took his own life, aged 56, in his bunker in Berlin on 30 April 1945 to evade capture by the Soviets.