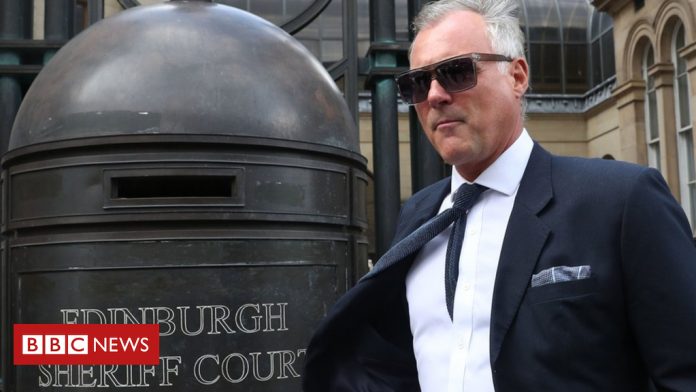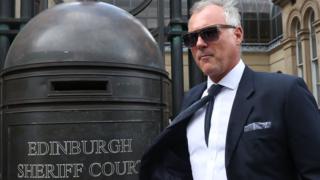 Former television presenter John Leslie was a "perfect gentleman" when dancing with a woman he is accused of sexually assaulting, a court has heard.
A nightclub DJ and friend of Mr Leslie, Nicholas Mowat, told Edinburgh Sheriff Court that he saw the pair dancing ballroom-style at the city's Atik club.
Mr Leslie, appearing under his real name John Stott, denies assaulting the women in June last year.
He is accused of putting his hand down the back of her trousers.
Mr Mowat, 50, who said he had been friends with Mr Leslie since high school, said he saw him dancing with the woman in the club, where she was celebrating her hen night.
Good view
He said: "John was just pirouetting. John had his hands on the back of the bride and he was a perfect gentleman, dancing around the dance floor as normal.
"I didn't see any signs of her being distressed with him or being anxious to get away from him in any way."
The witness insisted he had a good view of the dancefloor from his elevated DJ booth and said that when the song ended, 53-year-old Mr Leslie kissed the woman on the cheek and walked off.
He added: "I wasn't 100% on them, but I would have noticed if there was some problem or if I needed to call a door steward over, which I never saw at all."
The court also heard from the bride-to-be's friend, who said that the way that Mr Leslie was touching her friend was "inappropriate" and that she had looked "scared".
'Top of his wrist'
She said: "They were dancing and I could see he had his hand on her lower back, which I felt was inappropriate.
"I would have felt uncomfortable if it was me.
"The next time I looked up, I couldn't see his hand any more. I could only see the top of his wrist. It was at the top of her tutu.
"At this point she looked scared."
The woman said she cut in between the pair and danced with her friend, who initially said that she was fine, but then started crying and later reported the incident to police.
Under cross-examination by defence lawyer Derek Ogg QC, the witness denied having any prejudices against Mr Leslie, and said she did not know who he was.
'Nothing to gain'
Questioned about whether or not the position of his hand was appropriate for a ballroom dance-style hold, the witness said: "I don't think it is appropriate for hands to be placed on lower backs.
"I knew that my friend was about to get married and I didn't think that dancing with this person – the way he had his hand on her – I didn't think it was appropriate."
On Monday, the court heard from the bride-to-be, who said Mr Leslie had put his hand down her trousers at the back while they were dancing and that she had nothing to gain from making up the allegations.
The trial before Sheriff Adrian Cottam continues.