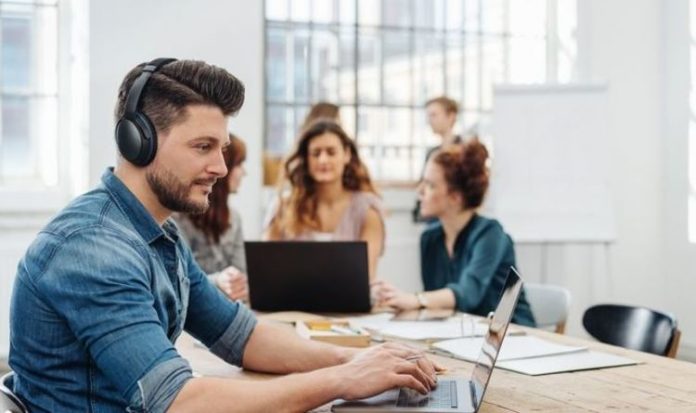 This Morning: Holly suffers technical blunder
This article contains affiliate links, we may receive a commission on any sales we generate from it. Learn more
If you've ever been on a flight with a crying baby or tried to work from home with loud housemates, you know the importance of being able to block out unnecessary noise when you need to. Even if you're not listening to music, being able to wear something that reduces the noise around you can offer much-needed relief and give you the option to restore peace and quiet whenever you need it.
When you are listening to music, podcasts, or even in meetings, being able to minimise the amount of background noise will make whatever you're listening to feel more immersive and help you to focus fully. For eight powerful pairs of noise-cancelling headphones that will give you the ability to better engage with what you're listening to, keep scrolling.
Bloc out background noise with noise-cancelling headphones (Image: GETTY)
Skullcandy Crusher ANC Over-Ear Wireless Headphones, MARSHALL Mid A.N.C Wireless Bluetooth Noise-Cancelling Headphones (Image: Argos and Currys)
24 hours of battery life and the ability to go from wireless to wired make these headphones adaptable to a variety of lifestyles – whether you want to use them on a run or as an all-day study companion, they're up to the job.
The plush leather earpieces feel comfortable to wear so you won't have to worry about sore ears after a few hours of wear.
RRP: £199.99
Shop on Argos here…
The stylish black and gold design of these headphones makes them an aesthetically pleasing, as well as a functional, accessory.
Sitting on the ear rather than inside, you can wear this set for hours without your ears crying out for a break.
In-built microphone, volume control, and remote mean you can do most of what you need from the headphones directly without having to touch your phone.
RRP: £160, on sale now for £99.99 – you save £60.01
Shop on Currys here…
DON'T MISS:
Bowers & Wilkins PX5 Noise Cancelling Wireless On Ear Headphones, Anker Soundcore Life Q20 Hybrid Active Noise Cancelling Headphones (Image: John Lewis and Currys)
The premium sound quality of these wireless headphones gives the user an immersive listening experience with powerful bass.
Adaptive noise-cancelling technology adjusts to the level of background noise reduction you need. The Ambient Pass-Through mode allows you to hear conversations or announcements without having to remove the headphones.
The fast-charging and long-lasting battery give you 25 hours of listening time when fully charged, and can give you five hours of playtime after just 15 minutes on the charger.
RRP: £199
Shop on John Lewis & Partners here…
The sound quality of these noise-cancelling headphones is clear and detailed, with strong bass and the ability to strengthen the bass output for different genres.
When fully charged, you can get 60 hours of listening out of these headphones so you'll only have to worry about charging them once every few days.
The comfortable earcups have been made from memory foam so that they mold around your ears to ensure a perfect fit.
RRP: £51.99, on sale now for £49.99 – you save £2
Shop on Currys here…
Hybrid Active Noise Cancelling Headphones, Bose QuietComfort 35 (Series II) (Image: Amazon)
Industry-leading noise-cancellation makes these headphones the perfect companion for commuting, studying, traveling, and working from home as they can reduce ambient noises by up to 90 percent.
Just 10 minutes on the charger gives you two hours of playtime, so even if you're running late you won't have to go without your headphones.
The upgraded Bluetooth technology guarantees a fast and stable connection, minimising the risk of sound dropping out during hands-free calls.
RRP: £49.99
Shop on Amazon here…
Bose can always be counted on to produce powerful, high-quality audio equipment, and they stay true to that with these over-ear noise-cancelling headphones.
Using three distinct levels of noise cancellation, these headphones provide world-class audio performance while ensuring annoying background noise is kept to an absolute minimum.
Alexa and Google Assistant are both enabled so you have constant access to voice-activation technology to make switching songs, finding information and answering calls easier than ever before.
RRP: £199
Shop on Amazon here…
Beats Solo Pro Wireless Noise Cancelling On-Ear Headphones, Sony WH-CH700N Noise Cancelling Wireless Bluetooth Headphones (Image: Amazon)
Active Noise Cancelling technology has been utilised in these headphones so unnecessary background noise is blocked, allowing you to enjoy the high-performance audio without putting up with annoying background noise.
Transparency mode lets you avoid any potentially dangerous situations by making sure you stay aware of your surroundings while you're listening, but this can be de-activated when you want true silence.
RRP: £269.95, on sale now for £199 – you save £70.95
Shop on Amazon here…
Coming in blue, grey, and black versions, you can choose the colour of your headphones to fit your style.
The ability to switch between wired and wireless means you don't have to worry about getting stuck without them when the battery died, you can just use the wire and keep on listening.
Built-in Alexa, Siri, and Google Assistant let you control everything you need using just your voice, making them truly hands-free.
RRP: £104.65
Shop on Amazon here…