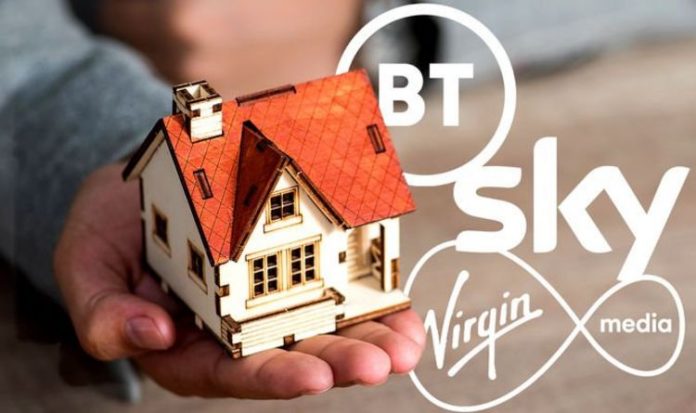 If you're looking to move home in the coming months, you'll be pleased to know that Britain's biggest house-builder, Barratt Developments, has committed to work with Virgin Media, Hyperoptic, and Openreach to bring gigabit-capable connections to all of its UK builds. Openreach supplies the infrastructure for the likes of BT, Sky, TalkTalk and Plusnet, Barratt is committed to working with some of the biggest suppliers nationwide.
According to figures from Barratt Developments, it erects around 15,000 new homes across the UK every year. In other words, that's a lot of people who will soon be moving into properties with access to some of the fastest broadband connections currently available from commercial internet providers. As it stands, some 37 percent of UK premises have access to gigabit-capable connections.
However, research published back in September 2020 by Cable.co.uk revealed the UK is now ranked 47th worldwide when it comes to average download speeds, which were recorded at a pretty meagre 37.82Mbps. At that rate, it should take roughly 15 minutes to download a feature-length movie in High Definition (HD). The UK manages to trump 174 other countries globally but falls way behind 46 other nations in the speed league, including 21 in Western Europe. This puts the UK among the slowest in Europe when it comes to average broadband speed. To make matters worse, Britain has lost ground since the last measurements were taken back in 2019.
The 2020 test confirmed the UK has now fallen behind Jersey (218Mbps), Gibraltar (183Mbps), Iceland (116Mbps), Switzerland (110Mbps), Norway (67Mbps), France (51Mbps) and Estonia (70Mbps). The Government has pledged to bring full-fibre broadband – with speeds comparable to these European nations – to more households soon, but these speedy new connections aren't expected to be plugged in until the mid-2020s.
MORE LIKE THIS
BT broadband price rise is coming: how much extra you'll need to pay
Ofcom has previously warned that around 600,000 homes and businesses in the UK without access to broadband speeds above 10Mbps. For comparison, gigabit-capable connections can unlock speeds up to 1,000Mbps.
Given that Netflix only recommends 5Mbps for High Definition streaming and 25Mbps for 4K quality video, these future-proofed broadband connections are more than enough to handle working from home, videoconferencing, boxset binges at the weekend, on-demand content from Sky and other providers, downloading updates to smartphones and games on next-generation video game consoles, and uploading back-ups.
Speaking about its commitment to bringing super fast connections to homeowners, Steven Boyes, CEO of Barratt Developments, said: "We're really pleased to be able to offer this new unified service to our customers and Openreach has been integral to that. Delivering different full fibre services on a site by site basis can sometimes cause problems for customers, so by coming together to build a unified system with Barratt it will deliver a much better service, benefitting everyone. Particularly now when everyone relies on fast and reliable broadband this new service will mean customers can enjoy their new home even more.
"A unified service with multiple providers hasn't been delivered in the housebuilding industry before so it is testament to Openreach for their hard work and vision in helping making this happen. As the country's leading housebuilder we're proud to be offering this industry-first to our customers when they need it most."
Openreach currently builds full-fibre infrastructure to around 200,000 new homes every year, that works out at roughly 4,000 new connections coming online every week. Hyperoptic has stated a goal of covering 5 million premises by 2024, while Virgin Media is racing to expand its Gig1 connections to new areas – and has shown that it's possible to supercharge the speeds delivered with its current cables, which are available much more widely.
The commitment from Barratt Developments comes as the UK Government has quietly confirmed plans to water-down its commitment to bring full-fibre broadband connections to the entire country by 2025. The pledge to connect every home in the UK with gigabit-capable cables was a key part of Prime Minister Boris Johnson's manifesto during the election last year.
Rob Evans, Managing Director of Network Expansion at Virgin Media, said: "This innovative and exciting partnership between Virgin Media and Barratt Homes will mean that new homeowners will have access to the UK's fastest widely available broadband from day one of moving into their new home. Our connectivity will provide residents with the ultrafast and reliable broadband services which have never been so important to the way we live our daily lives. It is essential that all new homes have access to the fastest speeds available and we will continue to work with developers across the UK to ensure more homes are connected to such vital services."