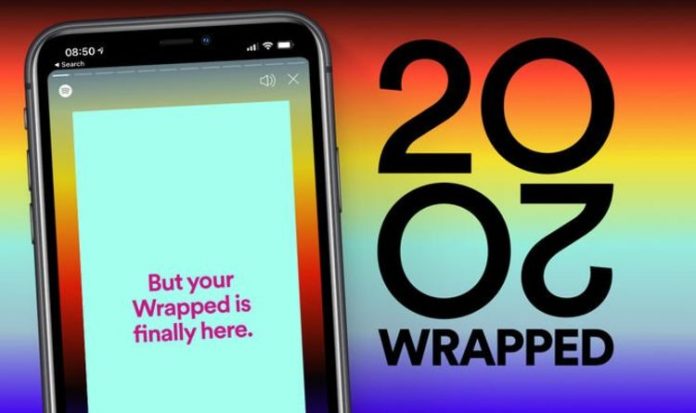 Spotify announced the most-played songs, artists, albums and podcasts globally and across the UK yesterday, and now, it's your turn. Yes, the hugely-successful music streaming service has launched the personalised Wrapped 2020 experience in the Android, iOS, iPad and desktop app. This takes subscribers on a journey through their listening trends of the last year, from new artists they've uncovered, the nostalgic hits they revisited, favourite podcasts …and even the songs you're not particularly proud of that got you through lockdown.
To find out your Spotify Wrapped 2020, launch the app on your smartphone or tablet app and tap on the Home tab. At the top of this page of recommended playlists, artists and more, there should be a banner for the Spotify Wrapped experience. Tap on that to revisit your personal tastes from the last 12 months. There's also a dedicated Spotify Wrapped website for those who listen on desktop or on consoles.
As always, you'll be able to share the most surprising statistics with friends in chat apps, like WhatsApp, or social media, like Twitter or Instagram Stories. As well as the statistics and trivia from your listening habits presented in Spotify Wrapped 2020, you'll also find your most-played brought together in a single playlist. This will include your most-played tracks and artists from the last year to revisit before the fireworks ring in the new year.
Spotify Wrapped launched back in 2017 and was a successor to the streaming service's popular annual Year in Music feature. Essentially, Wrapped compiles the tracks you've been binge-streaming the most this year and collates them into a single playlist for you to jam to whenever you desire. Spotify puts together each individual's Wrapped playlist by tracking streaming activity from January 1 to October 31. That means you probably won't have any Christmas songs in your playlist, but there are plenty of other compilations for those anyway.
This year has brought a number of changes to the Wrapped feature – first up, it marks the first time that Spotify has included interactive in-app quizzes to test users' ability to identify their own top podcasts, artists, and even top decade you streamed most. Wrapped 2020 also offers more insight into podcast habits than ever before, with Spotify now revealing how many minutes users spent listening and the most binge-worthy podcast of the year.
Premium users can look forward to new badges that crown listeners with various titles based on the ways they listened. For example, if a number of your playlists gained significant new followers, you'll be a Tastemaker. If you listened to a song before it was cool (aka hit 50,000 streams), you'll get the Pioneer badge.
And based on the number of songs you added to playlists this year, you just might become a Collector. That adds more of a social element to the Wrapped 2020 experience.
New personalized playlists will help you make the most of what you listened to this year. These range from Your Top Songs, the songs you loved most this year in one convenient place, to Missed Hits, our Wrapped discovery playlist where we recommend popular similar 2020 releases you didn't listen to that we think you might like. Plus, listeners in the UK and Ireland, Australia, United States, New Zealand, and Canada can dig deeper into some of your top artists of 2020 in On Record, a mixed-media experience that highlights your top 2020 artists.
But while Bad Bunny is the most-streamed artist, the individual song that clocked-up the most streams goes to The Weeknd. The most-streamed song of 2020 both globally and in the UK was "Blinding Lights" by The Weeknd, racking up almost 1.6 billion streams this year. In the second and third spots respectively globally are Tones And I's "Dance Monkey" and Roddy Ricch's "The Box." The fourth most-streamed song of the year is "Roses – Imanbek Remix" by Imanbek and SAINt JHN, followed by Dua Lipa's "Don't Start Now."
The most-streamed album globally of 2020 is Bad Bunny's YHLQMDLG with over 3.3 billion streams, followed by The Weeknd's After Hours and Post Malone's Hollywood's Bleeding. Rounding out the list of top albums are Harry Styles' Fine Line and Dua Lipa's Future Nostalgia. However, for the UK, the most-streamed album is Lewis Capaldi's Divinely Uninspired To A Hellish Extent.
The year's most popular Spotify editorial playlist is Today's Top Hits, which has more than 27 million followers.