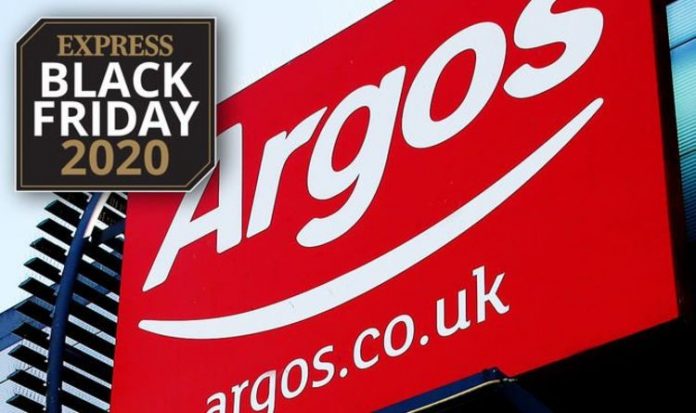 Black Friday 2020 officially begins on November 27 but that's not stopping stores from offering discounts today. Currys has already launched its early deals and now Argos has announced the first swathe of offers ahead of the main event. The retailer has just revealed that its Black Friday period has begun with savings on a range of products including Samsung TVs, Beats headphones and wearables such as the Galaxy Watch.
There's also some tasty discounts on the Dyson V8 vacuum cleaner and Krups coffee machine.
Announcing the sale Argos said: "It is time! The highly anticipated Argos Black Friday period is live, presenting to the nation a range of Black Friday deals, hot products and so much more!"
Along with the price cuts, Argos also says that all customers can also pick up extra with Black Friday bargains by collecting Nectar points on Argos purchases both in store and online.
Simply download the Nectar App before Black Friday to see all bonus points offers.
READ MORE: Argos Black Friday 2020: Lowest ever prices and best deals revealed ahead of sale
HERE'S THE BEST EARLY DEALS FROM ARGOS
Samsung Galaxy Watch • £179 – SAVING £100
SEE THE DEAL HERE
GoPro HERO7 White • £179 – SAVING £100
Amazon Echo Dot • £18.99 – LOWEST EVER PRICE
SEE THE DEAL HERE
Samsung 43 Inch TV • £299 – SAVING £30
SEE THE DEAL HERE
Samsung 55 Inch TV • £399 – SAVING £30
SEE THE DEAL HERE
Beats by Dre Studio 3 • £149.95 – SAVING £30
SEE THE DEAL HERE
Dyson V8 • £299.99 – SAVING £100
Krups Opio • £74.99 – SAVING £75
Fitbit Charge 4 • £34.99 – SAVING £30
Spear & Jackson Pressure Washer • £100 – SAVE £100
Tassimo by Bosch • £39.99 – SAVE £10
Skullcandy headphones • £34.99 – SAVE £15
If there's nothing here that takes your fancy then don't panic as Argos is expected to announce even more deals in the run-up to the main event next Friday.
In fact, on its website, Argos has confirmed that 5.1 million unique customers visited its online store and its 2019 sale included 423 deals on gaming products alone.
If you want the latest info on the Argos offers then the retailer has an email list which you can sign up to.
Here you'll get all the information about their current deals and savings. Closer to the time Argos says it will also start updating about Black Friday and Cyber Monday 2020.
WHAT IS BLACK FRIDAY?
Black Friday has become the biggest shopping day of the year after crossing over from the US. Amazon, Tesco, Argos, and other shops offer Black Friday shopping deals and traditionally slash prices and offers on technology and electronic goods on the Friday after Thanksgiving. This year it falls on November 27.