[ad_1]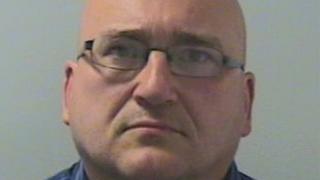 Senior detectives chose not to intervene after officers saw a boy enter the house of a known paedophile, a watchdog has confirmed.
Police were carrying out surveillance of Dominic Noonan, a Manchester gangland figure, when they saw the teenager enter his home in 2011.
They contacted their Greater Manchester Police superiors but were told not to act, The Times reported.
Greater Manchester Police said: "There was no case to answer for misconduct."
In February 2011, the force conducted a covert investigation into Noonan when officers "witnessed the suspect enter a premises with two young people and remain there for a substantial period of time", the Independent Office for Police Conduct (IOPC) said.
The officers chose to continue their observation, the watchdog said.
It added: "Officers involved in the operation did not intervene.
"However, there was no suggestion at the time, or since, that anyone was harmed during the meeting."
'Deficiencies'
In 2016, an IOPC report concluded the decision to not intervene by the two detectives leading the investigation "was in line with the investigative strategy" but "could amount to misconduct".
It said "potential risks had been highlighted prior to the surveillance operation" but "there were some deficiencies in the planning of the operation".
Greater Manchester Police held a formal misconduct meeting in 2017 when they found "there was no case to answer for misconduct and recommended both officers' actions should be dealt with as a performance matter with appropriate action plans".
Noonan, who was the subject of a 2007 feature documentary film A Very British Gangster, was jailed for nine and half years for firearms offences in 2005.
He was then sentenced to nine years in 2015 for arson, conspiracy to blackmail and perverting the course of justice.
In May, he was jailed for a further 11 years for various child sexual offences, including indecent assault and inciting a child to sexual activity, committed between 1980 and 2012.
He chose to be referred to as Domenyk Lattlay-Fottfoy during the Manchester Crown Court trial last month.
His brother, the gangland leader Desmond "Dessie" Noonan, was murdered in 2005 days before a Channel 5 documentary was broadcast in which he boasted he had "more guns than the police".
[ad_2]