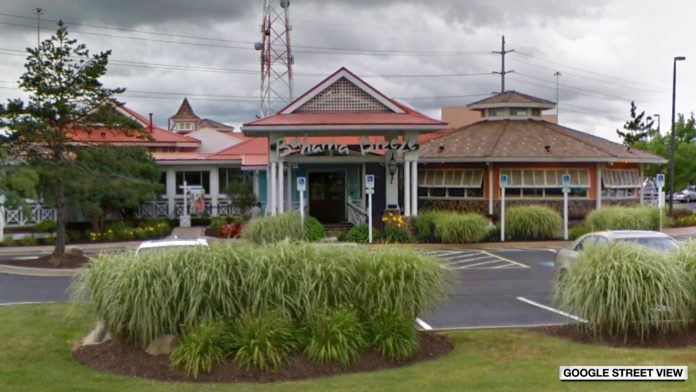 The manager of a Caribbean restaurant has been sacked after he called police to ensure a group of black women paid their bill.
The male manager claimed the group of roughly 40 members of a sorority had refused to pay for their meal at the Bahama Breeze Restaurant in Orange Village, Ohio, and so he called 911.
The women had been out for a meal to celebrate one of the members of Delta Sigma Theta signing a book deal.
Chante Spencer said the group had been waiting 25 minutes for the bill and one woman – not a member of the sorority – had threatened to leave.
The woman paid the bill, but did so surrounded by police who had been called to the restaurant when the manager asked officers to stay until everyone had paid, Ms Spencer told Cleveland.com.
She said: "Police were standing there to make sure everyone paid, which we felt was racial profiling."
@Starbucks The police were called because these men hadn't ordered anything. They were waiting for a friend to show up, who did as they were taken out in handcuffs for doing nothing. All the other white ppl are wondering why it's never happened to us when we do the same thing. pic.twitter.com/0U4Pzs55Ci

— Melissa DePino (@missydepino) April 12, 2018
The incident angered Ohio congresswomen Marcia Fudge, who told the news website it was a "chilling reminder that no African American is exempt from the impact of racial profiling".
Delta Sigma Theta sorority is a group if "college educated women committed to the constructive development of its members and to public service with a primary focus on the Black community", according to its website.
The restaurant has apologised to the group, which included a doctor, a judge, teachers and professionals, saying it "fell short of delivering great service".
Rich Jeffers, senior director of communications at Darden which owns Bahama Breeze, said in a statement on Thursday that the manager is longer employed at the restaurant.
He said: "The manager involved no longer works for us because they mistreated a guest, which is inconsistent with our values.
"We have spoken with several members of the party to personally apologise and invite them back in order to provide an exceptional Bahama Breeze experience."
Here we go again.

Meet Brandon Ward. He was @Starbucks – about to make a purchase – and needed to use the restroom.

They denied him the code.

He then finds a white man, Weston, who came out of the restroom.

He had not made a purchase but they gave HIM the code.

RACISM. pic.twitter.com/2UGZ20aOtF

— Shaun King (@ShaunKing) April 16, 2018
Earlier this year Starbucks had to close more than 8,000 stores across the US in order for staff to undergo racial awareness training after two black men were arrested in one of its shops.
The coffee giant was forced to apologise after the men were handcuffed while waiting for someone in a Starbucks outlet in Philadelphia.
It follows another incident which was captured on video where a black man says he was denied entry to a Starbucks toilet in Los Angeles, while a white man who had also not bought anything was given the bathroom code.