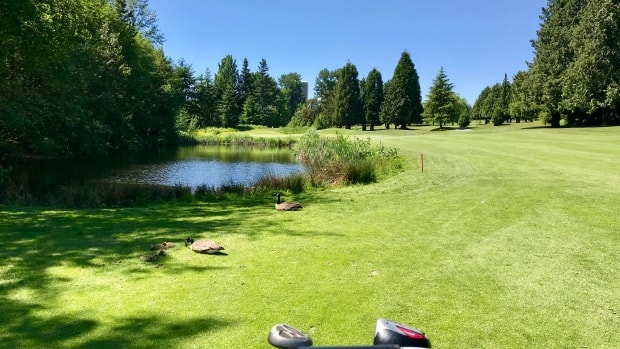 [ad_1]

Vancouver's park board is determining whether a review of its oldest golf course is out of bounds or ready to be teed up. 
Commissioners will vote on how to assess the future of Langara Golf Course on Monday evening. Staff is recommending they choose between two options — to conduct a separate review or to continue with the current path of examining Langara through a review of the entire park system that's already underway.
"Golf isn't going to change in Vancouver in the short term," said park board chair Stuart MacKinnon. 
"We're looking at all recreational ideas. The question tonight is is golf going to get a fast-track for review or [is it] being included in our long-term study of recreation in Vancouver."
Other options for the land
The staff report comes three months after city council asked the park board to consider different uses for Langara, which is approximately 120 acres in size. 
"I know we've had park board people and many people in the community talking about track and field and an international competition facility that would be fantastic," said Vancouver Mayor Gregor Robertson at the time.
"We've had cricket and kabaddi people saying, 'why do we have no facilities in South Vancouver that the community can use?'"
Park board commissioner Michael Wiebe understands there are plenty of potential options.
"Would we make it a nine-hole course … and then bring in different parkland and a nature area and track and field facilities? Those are the types of discussions that are being brought to the table, different ways we could use that much space," he said. 
But he said there are ways the land can stay devoted to golf while becoming more accessible to the general public. 
"Should we have a driving range and a putting green and have more accessible free golf things to get people involved in the sport? There's an opportunity to look at what the best use is from a golfer standpoint and a citizen standpoint."
Larger review underway
Mackinnon said a separate review would likely have to be independent.
"We'll probably have to go to outside consultants, because our staff is overloaded with work … and that's very expensive," he said. 
Staff is currently in the midst of creating a 25-year parks plan dubbed VanPlay, the city's answer to calls for better park planning as the demand for public recreational space increases.
The review includes new ways to use public spaces such as adding concrete ping-pong tables, parkour courses and more interactive playgrounds such as the recently completed Empire Fields in Hastings Park.
Whatever path the park board takes, Mackinnon says it's already generated plenty of discussion.
"The golfers of course would like to keep it as a golf course. Other people are thinking we need more park space, especially in the Cambie Corridor … people from Langara college and the neighbourhood would like more fields, so there's a lot of different uses that space could have, if it wasn't golf," he said. 
"But golf is very popular."
[ad_2]