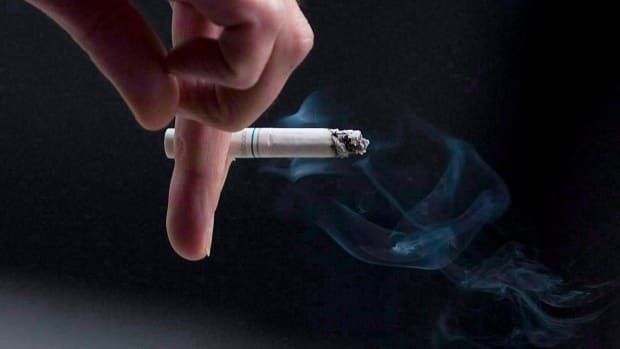 [ad_1]

The Saskatchewan Housing Corporation announced Wednesday that starting in August, there would be a no-smoking indoors policy for all Saskatchewan Housing Corporation owned and leased homes.
The policy will ban smoking of cigarettes and cannabis, as well as vaping. Tenants will have to smoke outside in designated smoking areas.
"What we're trying to do is protect the other tenants to make sure that they're no inhaling anything they want other than the fresh air that the building is providing," said Paul Merriman, the minister responsible for the Saskatchewan Housing Corporation.
Paul Merriman said the policy is to protect other tenants. (Trent Peppler/CBC )
The Minister said alternatives to smoking and vaping are fine.
"As long as it's not affecting the environment and other people that live within that facility," the Minister said.
Designated areas will need to be away from windows and patios of other residents. Merriman said people could work together to decide where they'd be.
Merriman said a recent ruling accelerated the policy. In March 2017, the Office of Residential Tenancies decided in favour of tenants who were filing complaints of secondhand smoke and ordered the Regina Housing Authority to compensate the tenants.
Carly Romanow was the staff lawyer representing the three tenants in the 2017 case. She said she thought her case was a "drop in the bucket" and was shocked that wide-spread change was happening so soon.
Carly Romanow, executive director of Pro Bono Law Saskatchewan, said the 2017 decision showed exposure to second-hand smoke is a legitimate complaint for tenants. (Craig Edwards/CBC)
"I'm glad that our decision brought this change but the reality of it is that these tenants had to go through quite an ordeal in order to get to this point," Romanow said.
The Canadian Cancer Society and The Lung Association praised the government's decision in a news release. The organizations said they regularly receive calls from people who are unable to get their landlords to address their concerns with second-hand smoke in their homes.
"Many people fear retaliation or being without housing if they speak out or complain. Their housing options are limited, which is why this smoke-free policy is so important," said Donna Pasiechnik of the Canadian Cancer Society.
Medicinal cannabis also banned
Some people in the cannabis industry criticized the lack of an exception for those with marijuana prescriptions.
"They're not considering the medicinal aspect and that's something that patients encounter over and over and over again with cannabis," said Stu Martin, a medical cannabis consultant at a Regina dispensary.
"They're probably going to see a bunch of court challenges."
Stu Martin is a cannabis consultant at a Regina dispensary. (Heidi Atter/CBC)
Martin said he knows of patients who live in Saskatchewan housing and use cannabis with a prescription. He said some probably may prefer to smoke outside, that issues can arise from ba weather or mobility issues.
"I just think that that's a discriminatory thing to make a patient go outside to consume their medicine," Martin said.
Minister Merriman said the government would be willing to look at some situations where people with prescriptions had circumstances preventing them from smoking outside.
"We want to look at the rights of all the tenants. not just one specific smoker," he said. 
[ad_2]