[ad_1]

A Canadian photographer is recreating the journey of a female painter who captured the last days of the voyageurs. 
In the 1860s, British painter Frances Anne Hopkins travelled by canoe from Montreal to Thunder Bay with her husband, a bigwig with the Hudson's Bay Company, and a crew of fur traders.
"During her trips she would sit in her canoe and make sketches of life with the fur traders, what it looked like, the boats going through the rapids. And often she would actually put herself in her paintings … very small, but there she was," photographer Naomi Harris told CBC Radio's Ottawa Morning.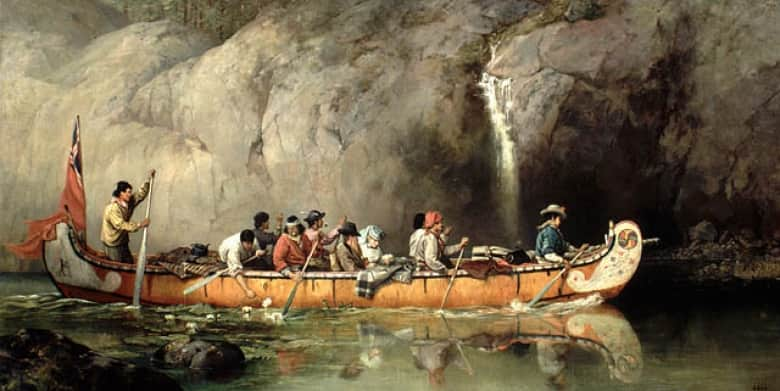 This painting by Frances Anne Hopkins likely depicts the artist and her husband, Edward Hopkins, secretary to the Governor of the Hudson's Bay Company, seated in the centre of the canoe. (Library and Archives Canada)
Harris, from Toronto, is paddling and portaging her own way to Thunder Bay, unlike Hopkins, who was a passenger. She's also wearing a dress like one the painter would have worn at the time, and said she's even adopted a persona for her first foray into performance art.
"Rather than just do it as a modern day me, Naomi Harris, canoeing the route, I decided to take on the persona of Francis Anne," Harris said.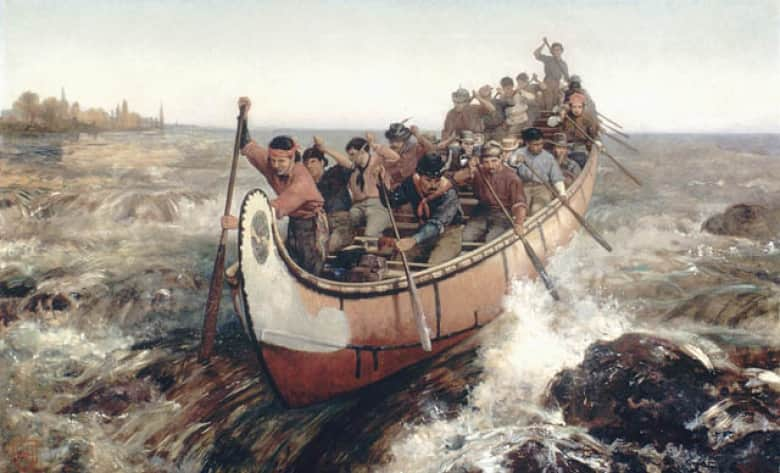 Shooting the Rapids (Quebec), a painting by Frances Anne Hopkins. (Library and Archives Canada)
End of an era
The paintings Hopkins created captured the tail end of the voyageur era, with steam travel about to replace the country's rivers as the main means of transport. Her works were exhibited at the Royal Academy in London, signed "FAH" to conceal the fact they'd been painted by a woman, Harris added. 
Harris's route follows the Ottawa River to the Mattawa River, the French River to North Bay, then along the shoreline of Lake Superior until she and her guide reach Thunder Bay. 
It's a long route, but Harris said they're ready for it. 
"I will admit we are getting a couple of lifts along the way, but that's only because of time restrictions, not because of the fact that I'm not up for the challenge," she said.
Harris, pictured portaging with her guide, has adopted Hopkins's persona for the voyage. (Hallie Cotnam/CBC News )
[ad_2]