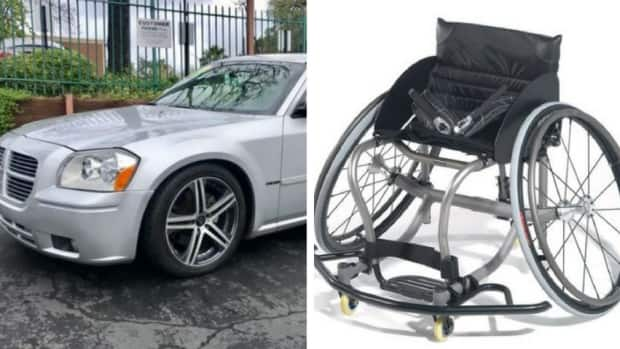 [ad_1]

A Calgary basketball player will have his customized wheelchair with him after all when he heads to a national team tryout in Toronto next month.
The specialized chair took months to make and is measured down to the centimetre to be customized for Dalten Campbell, who is paraplegic. The wheelchair was inside his 2006 Dodge Magnum, which was stolen from his condo parkade in Inglewood last week. 
Campbell told CBC News he was contacted by Calgary police about 10:30 a.m. Tuesday after a pastor at a church in Crescent Heights spotted his stolen car parked there, with his customized wheelchair still inside. 
The pastor "promptly parked his vehicle in front of it" and called police, Campbell said Wednesday in a text message to CBC Radio's The Homestretch, after doing an interview with the radio show a day earlier.
"Words really cannot convey how grateful I am to have been able to rely on your assistance and the assistance of the community of Calgary as a whole," he wrote.
Campbell is set to try out for a spot on the Canadian Paralympic basketball team at the end of July, something he's been working toward for the past two years.
---
Read more articles from CBC Calgary and like us on Facebook for updates.
​​With files from The Homestretch
[ad_2]