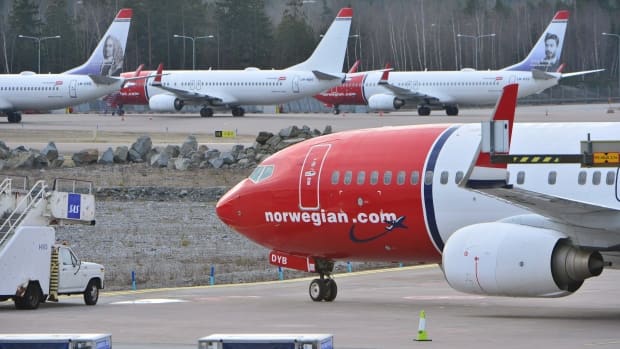 [ad_1]

One of the world's fastest-growing airlines is spreading its wings to Canada this fall as Norwegian Air Shuttle ASA enters the country's increasingly crowded travel market.
The airline is adding daily direct year-round service between Hamilton and Dublin starting next March.
Because it is a European carrier, it can fly to other European countries in the Caribbean with flights originating from Canada. Those islands are the only ones that are European territories. To eventually fly to other Caribbean countries, it would have to stop a European flight in Canada to pick up passengers.
Norwegian also plans to launch flights from Montreal to islands in the French Caribbean this fall. Three days per week winter service to Guadeloupe starts Oct. 29 and to Martinique on Nov. 1.
The Caribbean routes will use Boeing 737-800s. Flights to Dublin will be aboard Boeing 737 Maxs.
The airline was forced to postpone its entry into Canada from this summer because engine problems caused delivery delays of the fuel-efficient Max aircraft.
It is making a "soft entry" in Canada while deciding about future expansion to other large Canadian gateways and destinations.
"We will start off with these routes, and if it's a great success we will be coming in with much more in the future and with bigger planes," chief commercial officer Thomas Ramdahl said.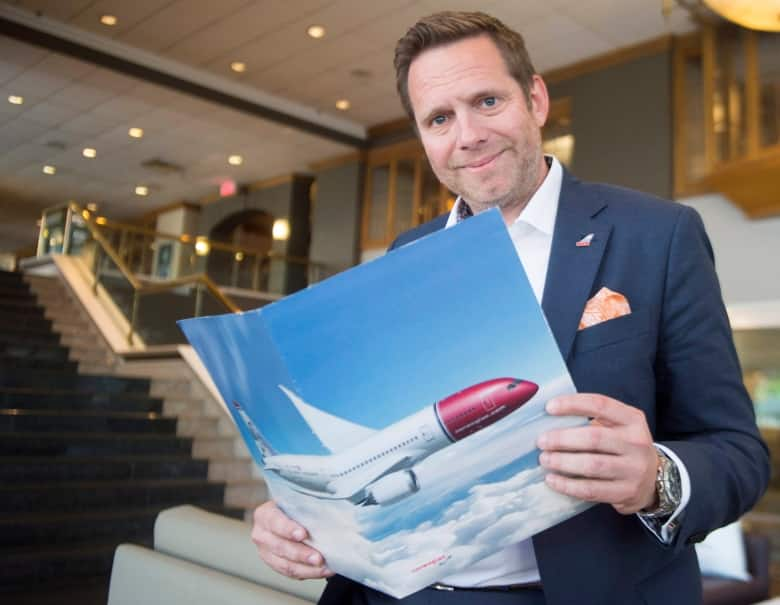 Norwegian Airlines chief commercial officer Thomas Ramdahl is seen Tuesday, June 19, 2018 in Montreal. One of the world's fastest-growing airlines is spreading its wings to Canada this fall as Norwegian Air Shuttle ASA enters the country's increasingly crowded travel market. (Ryan Remiorz/The Canadian Press)
Norwegian wants to "disrupt the old way of flying"
The larger Boeing 787 Dreamliner could be used on routes from Toronto Pearson, Montreal and Vancouver to London, Paris and Rome.
Norwegian is modelling its entry into Canada on its foray into the United States five years ago. It started with three routes from Scandinavia and is now servicing more than 60 destinations from various American cities.
"We're trying to differentiate or disrupt the old way of flying, Ramdahl said.
Instead of connecting flights through Oslo, Norwegian takes advantage of international agreements that allow it to offer direct service between other countries that don't include its base of operations.
Additional destinations and Canadian gateways will only be selected if they can attract a sizable number of leisure travellers as well as Europeans wanting to fly to Canada, he said.
Service from Hamilton's John C. Munro airport is mirrored on its efforts out of the Stewart International Airport, located 100 kilometres north of Manhattan.
"It's all about having a medium-sized airport where you are able to be really efficient," Ramdahl said in an interview, pointing to quick turnarounds and less time taxiing.
As the only airline flying directly to Europe, Norwegian will be a star at the Hamilton airport that is being used by Air Canada, WestJet, Flair Airlines and Swoop mainly for domestic flights. Air Transat and Sunwing offer seasonal winter service to Caribbean destinations.
Globespan Airways Ltd. started flying to Britain from Hamilton in 2007 until going bankrupt two years later.
Hamilton is attractive because it is within a 60-minute drive to two million people, and within two hours drive to nine million in Canada and the U.S.
"People will drive up to five hours, even seven hours, for such a good fare because there are no other direct flights to Europe from that area," added Anders Lindstrom, director of communications for North America.
The low fares, which start at $279 including taxes one way to Dublin and $219 to the Caribbean, will help to keep Canadians from flying out of U.S. border airports and spur demand from those who don't usually fly, he said.
Base airfares are more than $100 cheaper than alternatives, said Ramdahl, but don't include fees for almost everything aside from one free carry-on bag. A low fare costing about $108 more includes seat reservation, one checked bag and two meals on transatlantic flights.
The arrival of new travel options, including discount foreign carriers, is causing airfares to decrease, said Steve Sintra, Canada country manager for the Kayak search engine.
"We know that the market has been notoriously expensive in Canada, so the idea is that with some of these prices coming down that we could potentially see some new Canadian travellers enter the marketplace."
Successful in Europe
The addition of new entrants will provide some much-needed competition for international flights, said Frederic Dimanche, director of Ted Rogers School of Hospitality and Tourism Management at Ryerson University.
Norwegian has been very successful in Europe alongside EasyJet and Ryanair, but is one of the few low-cost airlines to try long-distance service.
"I think there is potential for it," he said from Toronto. "It's a whole new battle that they are innovating with."
With travel increasing between Europe and Canada, Dimanche said he believes direct flights could be successful if passengers are willing to drive to secondary airports.
That will require clear communication for European travellers who may not have heard about the airport almost 100 kilometres west of Canada's largest city.
However, he said Canada can be a tough market because of its small population and attractiveness primarily as a summer destination.
"Those are some of the barriers that are going to be difficult to overcome for some of the newcomers."
[ad_2]