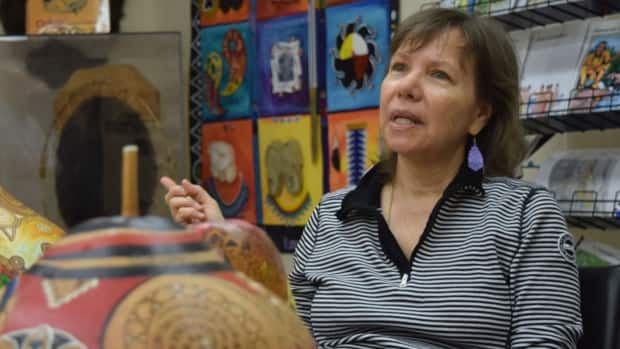 [ad_1]

For Kanien'kehá:ka activist Ellen Gabriel, the sights and sounds of children being separated from their parents at the U.S. border evoke policies of Canada's colonial past.
"Parallels can be drawn in the manner and the policies of Indian Residential Schools and forcibly removing children from their homes, from their families, not being able to see them as as a matter of state policy," Gabriel told CBC News.
On Wednesday, President Donald Trump signed an executive order ending the process of separating children from families after they are detained crossing the U.S. border illegally. About 2,300 children had been separated from their families since April after the U.S. announced a new "zero-tolerance" policy that refers all cases of illegal entry for criminal prosecution.
Gabriel is an Indigenous rights activist from Kanesatake, Que. Her grandmother was a residential school survivor, and the experience affected their family for generations.
"Not having access to your parents means that you are not worth a lot. As we know in many Indigenous communities, we have a lot of social problems that are rooted in colonialism," said Gabriel.
"When we see stuff like this happening south of the border, we see that it's exactly like the Indian Residential School system and assimilation policies to get rid of the identity. This is a political ideology and it's used for whatever purposes of the agendas of individuals."
Based on residential school survivors' experiences, she said children who are separated from their parents carry the traumatic experience for many years if not dealt with.
"It's setting them up for failure," said Gabriel.
Dealing with trauma
Dealing with people who have gone through trauma and suffer post-traumatic stress is something Tom Dearhouse does on a daily basis as a traditional counsellor at the Family and Wellness Centre in Kahnawake, Que.
"Kids are being detained, I don't think that's a good thing," said Dearhouse.
For the last decade, the centre has offered support and services to residential school survivors to deal with the impacts the school had on themselves and their families, such as not being accepted back into their community, alcohol and drug abuse, and dysfunctional relationships.
"We can't ignore that when they became parents, their children, to some degree, suffered from poor parenting skills and even that can go to the next generation, the grandchildren of the former students," said Dearhouse.
"So, we're looking at three generations of various degrees of trauma."
Flashbacks for Sixties Scoop adoptee
Colleen Cardinal, the co-director of the National Indigenous Survivors of Child Welfare Network, said the images from the U.S. "hit close to home" for her as a Sixties Scoop survivor.
"Just some of the pictures I've seen of the children crying and being scared and not able to be comforted by their parents or a caregiver is absolutely horrifying and gives me flashbacks to what us as survivors went through," said Cardinal.
Colleen Cardinal, co-founder of National Indigenous Survivors of Child Welfare Network. (Joe Lofaro/CBC)
Cardinal, originally from Saddle Lake Cree Nation in Alberta, was taken from her family as a baby in 1972 and was adopted by a non-Indigenous family in Sault Ste. Marie, Ont., in 1975.
"When I think about the way the Canadian government did this to Indigenous people, it was much more hidden but it's the same thing," said Cardinal.
"They forcibly took children, separated them from their families and left the parents just grieving, left the children traumatized."
"We don't really have the visual of what that was like back in the day, but if we could think about 22,500 children who were forcibly removed and trafficked through the child welfare system, that's what it would look like…," said Cardinal.
"It is triggering and harmful to see those images, but it's also necessary to get into people's heads that this is not OK. It's never OK and this is exactly what the Canadian government did."
Earlier this month, she published a book, Ohpikiihaakan-ohpihmeh (Raised somewhere else), about her story as an adoptee, the trauma she experienced and her journey to healing.
[ad_2]