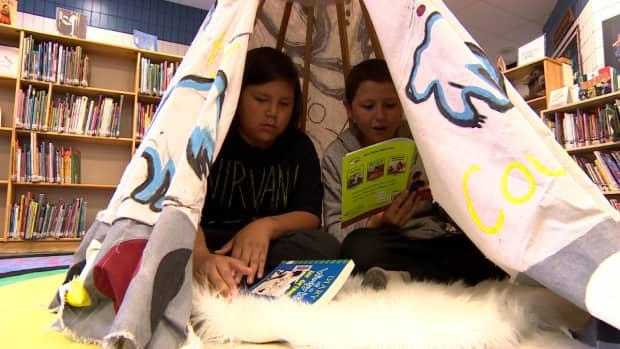 [ad_1]

It started as just a blank piece of canvas from a hardware store, but after over 40 hours of planning and painting it's been transformed into a place where students at a Winnipeg school go to feel safe and calm.
The teepee project at Chancellor School in Waverley Heights began in October, when the school's guidance counsellor, Heather McDevitt, got the idea to bring a teepee into the school after building one at a teaching conference.
"Sometimes [students] like to be in a space that covers them, whether it's a tent or some [other] kind of a structure, and I thought a teepee would just be so beautiful and there's just so many teachings attached to that," said McDevitt.
The teepee will be showcased at the school's assembly for National Indigenous Peoples Day on Thursday.
Last fall, McDevitt rounded up a handful of students who were interested in the project, but two of the students took a particular shine to the teepee.
Grades 5 student Kian Harper and Grade 6 student Selora Sinclair spent an hour a week from October to April working on the project.
Grade 5 student Kian Harper painted an eagle and a bison on the teepee, which is covered in pictures depicting the seven sacred teachings. (Holly Caruk/CBC)
"I felt really proud, 'cause I never created a big thing like this," said Harper.
"It reminds me of my home … the trees, the places and my other friends there," said Harper, speaking of his home community of Wasagamack First Nation.
The two 11-year-olds researched the seven sacred teachings and sketched out a plan for the canvas.
"Their two styles kind of came together and they had a similar vision of what they wanted to see on there," said McDevitt.
"They were just a natural fit and they had the passion for it."
'They have put their voice on this piece'
McDevitt said at the start of the project, the two artists were very quiet kids.
Harper just started at the school last fall and Sinclair almost never spoke, spending her time instead drawing in her sketchbook.
"That was her way that she was starting to communicate with people because she didn't speak," said McDevitt.
Chancellor students Kian Harper, left, and Selora Sinclair, right, sketched out the plan for the canvas before painting their vision on the teepee. (Holly Caruk/CBC)
But when the pair got together with McDevitt to work on the teepee, both of them began to open up.
"Together, we had a lot of conversations about the colours and the design and learning about the seven teachings," she said.
Everything the students couldn't say out loud was poured out over the canvas.
"You're always trying to give kids their own voice, and so they have put their voice on this piece," said McDevitt.
Once the teepee was complete it was set up in the school's library.
News of the new structure created a buzz among the students and everyone gathered around it to admire the work.
Heather McDevitt, the guidance counselor at Chancellor School, had no idea the students would develop such a connection with the teepee, which she brought to the school in October. (Holly Caruk/CBC)
"Kian had said to me, 'this is the proudest I've ever felt.' It was just such a big deal for him," said McDevitt.
The students now use the space to take a moment for themselves, to read alone or to share a story with a friend.
"It's just a surprise, that you have an idea, an opportunity, and literally it takes a life of its own," said McDevitt.
"The greatest gift is just what it does for the kids, and that it impacted them so deeply."
Ties to family, culture
Harper is the great-grandson of Canadian artist and Indian Group of Seven member Jackson Beardy.
Harper's grandmother, Delores Beardy, says he's always been drawn to art, starting first by drawing anime characters.
"I'm really proud of him,"she said.
"He's naturally talented."
Beardy says she's happy to see her grandson learning about his culture at school.
Delores Beardy, left, says her grandson, Kian Harper, is a natural talent. Harper is the great-grandson of Canadian artist and Indian Group of Seven member Jackson Beardy. (Holly Caruk/CBC)
"I'm glad that people are starting to see the Indigenous side of people and acknowledging it in schools," she said.
"I see a lot of traditional stuff in [the school] that was ignored a long time ago. Even when I was growing up in school, I didn't see this."
'It just reminds me of who I am'
Grade 6 student Ramzey Whitford said he loves the idea of having a teepee, and uses it often when he feels hyperactive or overwhelmed.
"I go in there and I just calm down in there," he said.
"It feels like you're in a tight space and nobody can bother you."
Whitford, who is from Sandy Bay First Nation and has family in Dakota Tipi First Nation, says the teepee reminds him of being at a sun dance.
Ramzey Whitford, 12, says having the teepee in the school makes him feel like his culture is being recognized. (Holly Caruk/CBC)
"The sun dance always make me happy and makes me feel like myself because it just reminds me of who I am," he said.
Whitford says he felt honoured that the school would put a teepee up in the school.
"It means to me that they really think about other kids and how they are, they think of people like … Indigenous people, so when they brought it here I was kind of super happy."
The teepee, which stands nearly two metres tall, sits on a medicine wheel rug in the school's library. (Holly Caruk/CBC)
Whitford said having a day dedicated to celebrating Indigenous culture makes him feel included.
"We used to feel left out, and they brought this day to us, which means a lot."
[ad_2]