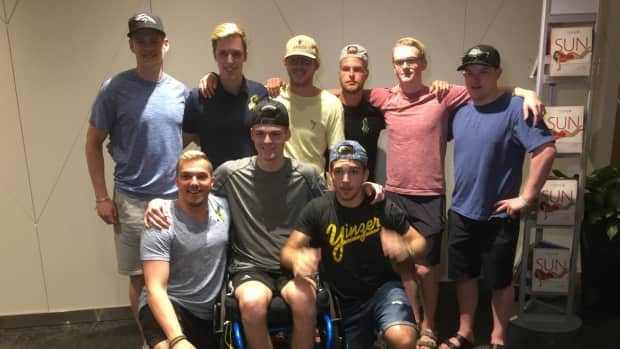 [ad_1]

Survivors of the Humboldt Broncos bus crash reunited in Las Vegas last night. They caught up around the table of a hotel restaurant — some together for the first time since the tragedy.
"It was something very special. We all missed each other," said Kaleb Dahlgren.
"It's something that you cherish."
The team will be honoured at the NHL Awards ceremony happening Wednesday. Additionally, the late Humboldt Broncos head coach Darcy Haugan has been nominated for the inaugural Willie O'Ree Community Hero Award. He was one of 16 who died as a result of the crash.
"He was very inspirational to our team," Dahlgren said, adding he taught them lessons on and off the ice.
Recovery hasn't been easy, but Dahlgren remains positive and relies on fellow teammates to keep moving forward. 
"People have other things in their lives as well that they have the same type of thing happen to them, they have to get through it themselves," he said.
"I'm lucky enough to have 13 others to help me through."
Dahlgren said they are busy with media conferences today and on Wednesday they'll be tied up with the rehearsal and award ceremony. Despite the obligations, Dahlgren said the team hopes to catch a movie tonight — and go for a swim if they can squeeze it in.
The reunion has been emotional. 
"I'm missing all the boys, Dayna (Brons), too. I don't know, it's just it's pretty sad but happy to be here with everyone who did make it," said Xavier LaBelle on Tuesday.
"It's good because everyone was spread out after the accident."
The time together has allowed them to reflect on the memories that were made during the season, he said. Currently, LaBelle is taking his recovery day-by-day. He said he's not allowed to play contact sports for two years and has to hold off from attending university. 
He plans on attending his grade 12 graduation at the end of June and upgrading his high school classes in the fall.
LaBelle said he looks forward to the award ceremony. 
"It's going to be pretty great, just being there with everyone and seeing some players that we all idolize." 
The Humboldt Broncos commemoration is likely to be one of the most memorable moments of the awards ceremony, said Steve Mayer, the National Hockey League VP and chief content officer.
"The fact that we are bringing together ten surviving players who are seeing each other together for the first time since that horrible bus crash, you know, that to me will be unbelievably emotional," he said.
The NHL awards ceremony will also commemorate last year's Las Vegas concert shooting, and the Stoneman Douglas High School shooting in Parkland, Fla. Each tragedy affected the NHL, Mayer said, adding the awards ceremony is an opportunity to reflect.
"We wanted to give this moment to sort of honour, tell everybody that we're still thinking about them," Mayer said.
"We'll never, ever not think about these communities."
Mayer said the ceremony is also an opportunity to talk about recovery and the positivity of people coming together in the aftermath of such tragic occurrences. 
[ad_2]