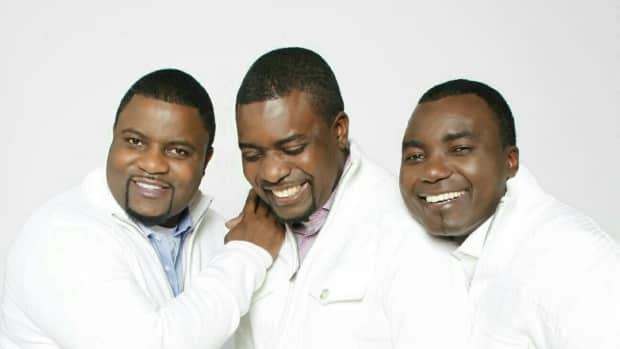 [ad_1]

Music helped the Lwamba brothers survive.
It allowed them to navigate extreme loss, pain and change — including life in a new country.
Michel, Fabian and Alliston grew up in Zaire — now the Democratic Republic of Congo — in an affluent family. They say life was very good, until university. 
The Lwamba brothers were born into an affluent and influential family in Zaire. (Submitted to CBC/Michel Lwamba)
In 1987, Michel, the eldest of the brothers, enrolled in political science at the University of Lubumbashi. The next year, Fabian followed in his footsteps. 
Allegations of corruption and murder plagued the school's administration in the years that followed.                               
A lost brother
In May 1990, the Lwamba brothers were among hundreds of students advocating for democracy at the school.
Then one day government military officials, under the control of dictator Mobutu Sese Seko Kuku Ngbendu Wa Za Banga, violently cracked down on students.
The University of Lubumbashi. (Wikimedia Commons)
"That night, that has changed everything forever," said Fabian.
"The screaming of the students that were falling. And, those who were crying out, with their breath, for the last time as well. And, we can still hear that, in a departed way, from our ears. And, that was traumatic … that's the day I lost my brothers," said Fabian.
Mobutu Sese Seko Kuku Ngbendu Wa Za Banga is pictured in 1987 (his name is usually translated as "the all-powerful warrior who, because of his endurance and inflexible will to win, will go from conquest to conquest leaving fire in his wake" or also "the rooster that watches over all hens"). (Getty Images/Georges Gobet/AFP)
Many people were killed. The Lwambas estimate 400 students were slain by Mobutu's men at the university.
Michel and youngest Lwamba brother, Alliston, managed to escape the country after some Catholic priests helped them get to United Nations officials. 
But Fabian was lost in the chaos.
A photo of the Lwamba brothers with their family. (Submitted to CBC/Michel Lwamba)
"I was trapped in this demonstration," Fabian said. "Tortured, wounded and was released by my uncle who traded his life for mine, literally … they think I didn't make it out."
In the days that followed, the Lwamba brothers' parents and relatives were rounded up by military officials and killed.
Canadian canola gives hope
The Lwamba brothers reunited in Saskatchewan in 1998. (Submitted to CBC/Michel Lwamba)
Michel and Alliston assumed Fabian had been killed, too. They spent five years in a refugee camp in Kenya.
"Without knowing whether our father survived, whether my mother survived — they were killed — we were there for five years, in pain, in desperation," Michel said. "We didn't know what to make of this. When are we going to go back home?"
As Michel and Alliston adapted to life in the crowded camp, they learned snippets about the unrest at home, and the wider world, through a radio that was given to them by a Canadian documentary film crew.
As Saskatoon author Darlene Polachic wrote in her book about the Lwambas, Keep On Standing: The Story of Krystaal, Michel vowed to try and make it to Canada after hearing a Radio-Canada report on the radio about the country's good education system and democracy. 
Michel said he also learned about the country through Canadian donations to the camp.
"We saw canola oil … Saskatchewan, we learned, this is Canada," Michel said. "That's how we came across Canada, through the food they were sending."
A new life in Saskatchewan
The brothers perform as Krystaal. (Submitted to CBC/Krystaal)
In 1996, a Saskatoon church sponsored Michel and Alliston's immigration to Canada as refugees.
Michel said life was different, especially the weather.
"I went to the Saskatchewan River, and we took pictures, [me and] my brother, because it was all frozen," Michel said. "We said, here it is very easy to walk on the water without a miracle."
Michel sent that photo back to a friend in the Kenyan refugee camp where he had lived.
Serendipitously, Fabian had been moved to the same camp after the brothers left. He saw the picture and realized his brothers were alive and living in Canada.
"I struggled to find a stamp. It's true. It took a long time to get a stamp, to write to them, to tell them I am alive," Fabian said.
Word eventually travelled back to Saskatchewan, and thanks to the efforts of another Saskatoon church group, Fabian was reunited with his brothers in Saskatoon in 1998.
Fabian Lwamba performing. (Submitted to CBC/Michel Lwamba)
While living in Saskatoon, the brothers started the Christian music group Krystaal.
They said it helped them heal from the trauma they'd experienced.
"We wanted to scream out loud. When you go through such an experience, it's not only a physical impact that is damaged here. You have emotions going out of control. You have lost parents. Lost brothers," Fabian said. "Then you see them again, and you're kind of in a position when you don't know what's going on with yourself as well."
Alliston Lwamba performing. (Submitted to CBC/Michel Lwamba)
The brothers' story and talent attracted attention. Soon the trio was travelling the world.
Working with World Vision, the group has performed for large crowds throughout the world. They said music has allowed them to share their faith and message of hope with those who need it most, including fellow refugees.
"Sometimes you feel discouraged. You don't know what to do. You don't know where to go. For us, we wanted to advocate for the voiceless people. We say, if this happened to us. It can happen to you as well. Keep it up," said Michel.
Michel Lwamba performing. (Submitted to CBC/Michel Lwamba)
The Lwambas now live in Toronto. But Michel said they call Saskatchewan home. They have returned to the province to launch their Healing & Hope World Tour.
"This is home. We call this home. It's a homecoming so we want people to come and celebrate with us," Michel said.
Krystaal has several concerts booked throughout Saskatchewan for the Healing & Hope World Tour, with other dates booked throughout Ontario into the fall.
On July 14 the Lwambas will play at Regina's Living Hope Alliance Church. They will perform at a similar concert in Saskatoon in September.
The brothers say a portion of the proceeds from their concerts will go towards helping other refugees through World Vision.
June 20, 2018 marks World Refugee Day.
[ad_2]