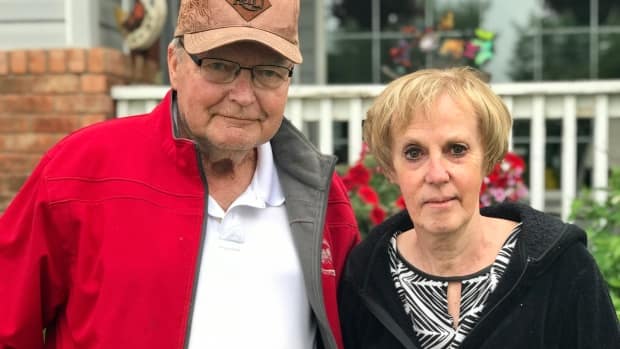 [ad_1]

Most people in High River are ready to put the flood behind them and move on to a new era for the town. But some are still dealing with unresolved housing issues. Clockwise from upper left: Howard Suitor, Irene Sereda, Bernice Bragg, Craig Snodgrass, Lisa Siggelkow and Marnie Ball. (Dan McGarvey/CBC)
Mention the flood to people in High River and most will tell you they're done talking about it. They're all talked out.
Five years after flooding devastated the historic town south of Calgary, its residents have moved on.
At the Museum of the Highwood in the community's downtown, the 2013 flood is the latest addition to an exhibit listing a lengthy and rich flood history.
There are black-and-white photos of men up to their horses' bellies in water, canoeists paddling by the old train station and store owners wading through downtown.
A photo in the Museum of the Highwood taken in the 1920s shows one of many floods the town has seen in its long history. (Museum of the Highwood)
The exhibit covers all the big ones: 1884, 1886, 1908, 1912, 1923, 1929, 1932, 1942, 1995, 2005, 2006 and now 2013.
And the museum is where locals say the latest and most destructive flood now belongs.
"Every time it rains, you get a little bit tense," said local resident Marnie Ball.
"Neighbours were helping neighbours, friends were helping friends. We could have never gotten through it alone," said Ball.
Marnie Ball says her home was flooded by four feet (1.2 metres) of water in 2013. Although the town has moved on, she says people always feel nervous at this time of year. (Dan McGarvey/CBC)
"But hopefully it won't ever happen again, and I don't think it could happen again with all the work that's been done," she said.
"We're putting the flood behind us," said Bernice Bragg, who has lived in the town since 1974. "The flood needs to be put to bed."
Across town, outside the old sandstone CIBC, Irene Sereda says being rescued from her flooded home via a front-end loader seems like a long time ago now. Just a bad memory.
High River resident Irene Sereda recalls being rescued for her home in 2013 but says it seems like a long time ago now. (Dan McGarvey/CBC)
"The town has gone back to what it was before. I'd say we're just about there," said Sereda.
"It's definitely something we don't dwell on anymore, but we won't forget," said Lisa Siggelkow, who runs the Pixie Hollow store a few doors down from the bank. "We're just happy that we're back to normal. We have a beautiful downtown here."
Five years on, there are now more than $100 million worth of berms, dikes and flood gates to make sure 2013 was the last of the "big ones." Another berm is in the approval stage and is due to be built next year, with a temporary berm in place until that happens.
Submerged cars and debris line a street in High River in 2013. (CBC)
Mayor Craig Snodgrass proudly describes High River as the best protected town in North America. But as much as they want to, some still can't move on.
"It's horrible. The stress has been unbelievable," said Ingrid Suitor, one of a handful of residents still waiting for the province to decide the fate of what they thought were their forever homes.
Suitor, with her husband Howard, still lives in her home on Riverside Drive, but she doesn't know for how long.
Ingrid Suitor says her home should be spared from what she says would be an expensive and totally unnecessary buyout. (Dan McGarvey/CBC)
The Suitors' house didn't see a drop of water from the 2013 flood, or any other flood. But the couple says the province wants to buy them out and demolish the home, along with six neighbouring homes, simply because they are included on a floodplain map from the early 1990s.
The map hasn't been updated and doesn't take into account the extensive mitigation work that has taken place in the years since the flood or the fact the homes never flooded.
"Some people made the decision to take the buyout fast and now they don't know how to get out of it," Suitor said, saying they agreed to a deal themselves before changing their minds.
Ingrid Suitor holds a photo she took of the 2013 flood from the front of her home, which escaped any damage. (Dan McGarvey/CBC)
They agreed because they were told their home couldn't be resold, as any new buyers wouldn't be able to get a mortgage. But then they decided to fight to keep it.
"We're on extension No. 4 now. They keep doing this until they make a decision," said Suitor.
"There's things that need doing to the home but you don't want to put money into this place if the government's going to take a bulldozer to it," she added.
"It's just a normal home but it's home and we think it's worth fighting for," she said. "Five years is more than enough time. It's a simple decision and we're tired of living in limbo."
She says the offer they signed was for $40,000 less than they paid for the house, just six months before the flood, leaving them out of pocket if the province decides they have to leave their home.
The mayor of High River, Craig Snodgrass, says the small group of residents who are fighting to keep their homes need closure in the form of a decision from the provincial government. (Dan McGarvey/CBC)
The neighbourhoods of Beachwood and Wallaceville were both bought out by the province after the flood, totalling nearly 140 homes.
Some in Beachwood were auctioned off, with several homes still standing there five years on, raised from the ground and waiting to be removed. But the town's mayor doesn't think taking out the Riverside Drive homes is the right decision.
"The reason why we want to reverse it is there was minimal impact. This is about a line on a map, it's not common sense," said Snodgrass, who noted there are 11 or 12 homes and some condos in the same position.
This is one of the new berms built in High River to secure the town from future flooding. The final berm project will be completed sometime next year. (Dan McGarvey/CBC)
"They're gorgeous properties. The homeowners want them back and this is not a safety issue," he said. "That's why we want the province to rewind this and look at it with common sense. We're not stopping until the province makes the right decision on this."
Snodgrass says he's still waiting to see newly completed flood maps, which is vital to making any decision on the homes. He says it's been hard to get information from the province on when that will happen.
He says he's even asked Premier Rachel Notley along with cabinet ministers Shannon Phillips and Shaye Anderson to visit High River and see the properties and situation for themselves.
The province says 13 provincial flood mapping studies are underway across Alberta and it expects new maps for High River will be ready by the end of this year.
"We understand residents have questions and concerns about the impact of the Floodway Relocation Program, and that they are frustrated work in their community is not happening more quickly," said Lauren Arscott, a spokesperson for the provincial government.
"Before we make any decisions, we need to have the best and most up-to-date information," said Arscott, referring to the progress being made on new flood mapping.
Arscott said the province can't comment on individual cases.
Pets were rescued, too, during the 2013 flood in High River. (CBC)
Mayor Craig Snodgrass says it's an issue that needs closure before the town can truly move on.
Even then, he says, the flood of 2013 shouldn't ever be a taboo topic as it takes its place as another chapter of the town's history.
"I'm not going to sit here and say the flood has passed us and we never need to talk about it. It's part of who we are, it's part of our life and what we went through, and I'm proud to be a part of that. The flood did a lot of destruction, but it brought a lot of great things to this town as well," said Snodgrass.
Part of that is a rejuvenated and reimagined downtown, a community brought closer together by adversity and a push for positive change, including a renewed focus on economic development.
A farmers market in High River's renovated downtown. (Dan McGarvey/CBC)
"We're being very aggressive, trying to draw tech business," said Snodgrass. "We're pushing to bring some of that business here and we've approved to start our own fibre optic project, which is going in this summer," he said.
"We're not being identified by the flood, we're not doing that any more," added Snodgrass.
One thing the whole town is agreed on is that its residents, and High River itself, are way more than just victims of a flood.
The town has recovered and moved on many times before and is coming to the end of that process again, hopefully for the last time.
Read more articles from CBC Calgary and like us on Facebook for updates.
[ad_2]